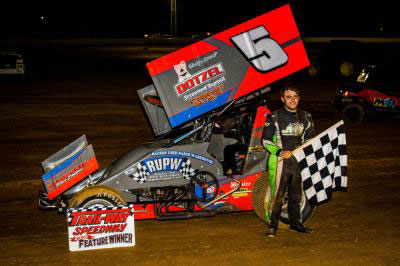 By Frank Buhrman
HANOVER, Pa. (July 12) – John Walp became the Pennsylvania Sprint Series' third multiple feature winner of 2019 on Friday night with a wire-to-wire victory in the 25-lap feature at Trail-Way Speedway.
The tour rookie of the year in 2017, Walp took advantage of a single-file start that followed three unsuccessful double-file attempts, and held off a determined charge by Tom Carberry to put his no. 5 IMCA RaceSaver Sprint Car in victory lane for the second time this year.
Jake Frye closed the gap on Walp over the last five laps of the race but settled for second, the second runner-up finish in the last three races for the Lewisberry high school student.
Dylan Shatzer finished third, making a successful return to competition following a highway accident earlier this year, and giving the top three positions to drivers under age 21. Jaremi Hanson finished fourth and Tom Carberry was fifth.
Walp and Carberry had started ferocious battles for the lead on each start attempt but when the fourth try went single-file, Walp was able to grab the top spot.
Carberry went to the outside, pulling alongside Walp several times but was unable to make the pass. On lap 20, the New Jersey driver's extra effort put his car sideways and almost stopped in the second turn, and while he miraculously recovered and only lost three positions, his challenge for the win was over.