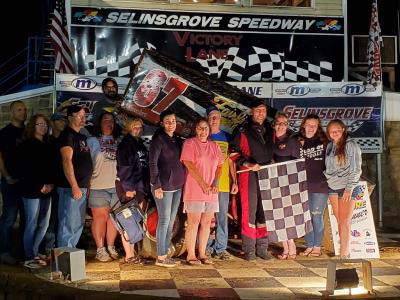 By Frank Buhrman
SELINSGROVE, Pa. (July 11) – This time a year ago, Ken Duke already had five Pennsylvania Sprint Series wins and 10 top-five finishes, on his way to becoming the PASS and IMCA Rac­eSaver Sprint Car national champion.
On Saturday night, the effort to make 2020 memorable for the right reasons took a big step for­ward when the hometown racer took the 20-lap PASS feature at Selinsgrove Speedway.
Duke took advantage of starting on the pole and wired the field for his first win of the year, cap­ping his comeback from a slow start – and two months with COVID-19 restrictions putting a stop to racing.
"We blew up an engine the first week (of the season) and took a few weeks to get things sorted out," Duke explained of his start, adding praise for his hard-working crew. "But two weeks ago we ran at BAPS and here and finished in the top three in both races and finally got things going in the right direction."
As for Saturday's win, Duke kept it simple.
"It was pretty much flat on the floor and hang on," he said in victory lane of his performance. "We got lucky and drew a good pill and got to start on the pole. Every time we come to Selinsgrove, it's a special trip for us."
Doug Dodson took his second runner-up finish in a row, and fourth top-three in the last six races, but on a lightning fast track couldn't catch Duke.
Devin Adams and Jake Frye claimed the next two positions with two of the best hard charging performances for the night, with Adams advancing eight spots and Frye 11 over their starting posi­tions.
Feature results – 1. Ken Duke; 2. Doug Dodson; 3. Devin Adams; 4. Jake Frye; 5. Garrett Bard; 6. Derek Hauck; 7. Jaremi Hanson; 8. Scott Frack; 9. Landon Price; 10. Fred Arnold; 11. Johnny Scarborough; 12. Ron Aurand; 13. Kyle Keen; 14. Nick Sweigart; 15. Rowdy Heffner; 16. Dominic Melair; 17. Dustin Young; 18. Dave Gruber; 19. Reed Thompson; 20. Will Brunson; 21. Josh Spicer; 22. Kruz Kepner; 23. Kassidy Kreitz; 24. Nathan Gramley.