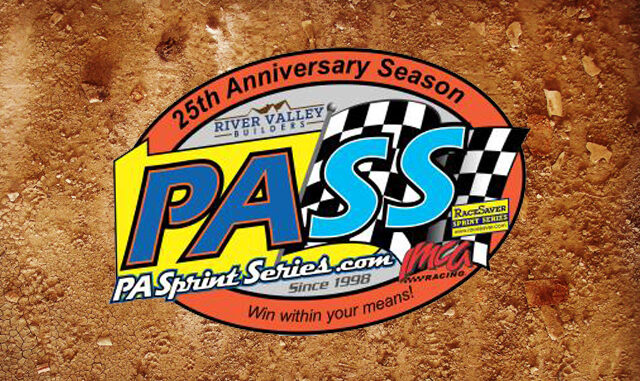 By Frank Buhrman
ABBOTTSTOWN, Pa. (Aug. 11, 2023) – Two tracks with long but very different histories of River Valley Builders Pennsylvania Sprint Series competition make their only 2023 appearances on the schedule this weekend.
Lincoln Speedway will be the IMCA RaceSaver Sprint Car teams' destination Saturday night, and on Sunday night the action moves west to Bedford Fairgrounds Speedway, for a co-sanctioned event with the Laurel Highlands Sprint Series.
Both tracks hosted their first PASS race 20 years ago. Lincoln will run exactly 20 years and five weeks after its first appearance, and Bedford will host the sprinters two days shy of exactly 20 years since the first show.
It needs to be noted, however, that Lincoln hosted the Virginia Sprint Series, the oldest of all RaceSaver regional groups, before its first PASS race.
In the years since, Lincoln has been a regular on the PASS schedule, typically with either one or two races. Overall, this will be the 30th PASS race at the Pidgeon Hills track, and the victories have been well spread out, with Jaremi Hanson the career leader with three wins. PASS Director Rod Ort had two wins.
Current drivers who have won at Lincoln include Erin Statler, Ken Duke, Doug Dodson and Jim Kennedy.
That 2003 race, incidentally, was won by Rob Mellott, who remained active working on Jarrett Cavalet's car the past couple of years. Ryan Lynn, who is expected to compete Saturday, was fourth, and Dusty Shatzer, father of Dylan Shatzer, an expected competitor, finished 13th.
Bedford ran three more PASS events in the early 2000s, then returned to the schedule with the Laurel Highlands Sprint Series, which was formed about a decade ago, and all PASS appearances since then have been co-sanctions with Laurel Highlands.
Ort won the 2003 Bedford race, beating Jason Shultz, who remains active in 410 and 360 racing.
Although there are some discrepancies in the history of PASS appearances at Bedford, Garrett Bard appears to be the only two-time winner.
Pit gates will open Saturday at 4 p.m. with racing set to begin at 7 p.m. Pit admission is $30.
Bedford is running the Junior Ritchey Tribute Race Sunday, with an increased purse for the IMCA RaceSavers. PASS will have a 25-lap feature and qualifying events. Gates will open at 4 p.m. with warm-ups starting at 6 p.m. and racing at 6:30 p.m. Pit admission is $25.
Next weekend the River Valley Builders PASS tour returns to Selinsgrove Speedway for a Sunday night race, the Kramer Cup for the All Star Circuit of Champions. PASS will run a 20-lap feature in support of that race.
An event scheduled for Port Royal Speedway on Saturday, Aug. 19 has been cancelled due to a schedule conflict.