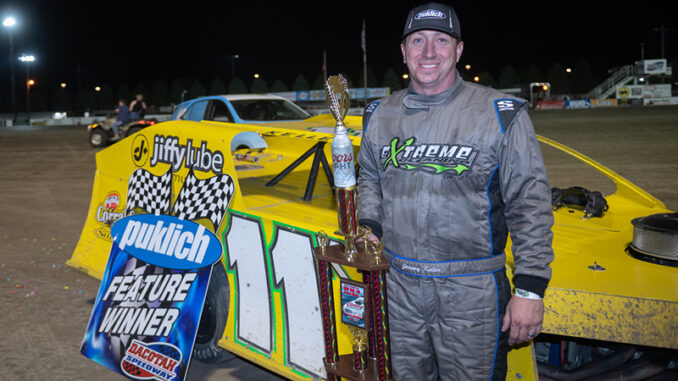 MANDAN, N.D. (June 3, 2023) – Jeremy Keller followed his game plan to the letter Saturday night at Dacotah Speedway.
As a result, the two-time race runner-up became the first-time winner of Mandan's 100-lap Iron Man main event for Friesen Performance IMCA Modifieds.
"It was a long race but it went by fast. It was a big night for us, that's for sure," Keller said following the career-best $5,000 checkers. "We were determined. We tested stuff this spring to see how we could be most competitive at the end. Run hard, be in front and not get passed late was the game plan."
From Bismarck, Keller had led much of the 2021 and 2022 Iron Man marathons before finishing second to Kollin Hibdon.
He'd been runner-up to Marlyn Seidler in their Friday qualifying feature and started fourth in the big show on Saturday.
Keller fell back a spot early, got back in the top four and then into the lead following a lap 20 caution.
Hard charger Aaron Turnbull made his way from 23rd starting to the front before the break at lap 50. Keller got the front spot back shortly after the race restarted and led the rest of the way.
Turnbull, Seidler, Mark Dahl and Jason Wolla rounded out the top five.
"I really like the 100-lap distance. It's like running four or five weekly features in one night," said Keller, newly eligible to qualify for the Fast Shafts All-Star Invitational. "We looked at the tires after the race and they were still good enough to run next Friday. That's a credit to the crew that works the track."
Dacotah Speedway is Keller's home track. He raced an IMCA Modified there from 2002-2006 and has won two track championships since returning to the division in 2013.
Keller had run second in the first two shows of the season before winning last weekend at Mandan.
"We had a lot of people help us get this win. It was a total team effort," said Keller, after enjoying a post-race couple cold ones courtesy of event and car sponsor Coors Light. "It was a good one to win."
Robby Rosselli was the Friesen Performance IMCA Northern SportMod winner and Krys Yost topped Saturday's Mach-1 IMCA Sport Compact feature.