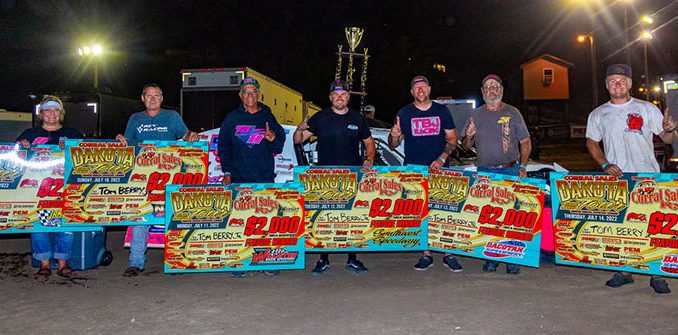 By Becca Pelkey
MANDAN, N.D. (July 14, 2022) – Tom Berry Jr.'s race for perfection ended in victory lane Thursday night.
Berry led all 30 laps of the Friesen Performance IMCA Modified feature at Dacotah Speedway in winning the Corral Sales Dakota Classic Tour finale, his record sixth victory in as many starts during the week of the 33rd annual tour.
"Unbelievable," Berry said afterwards. "We focused but we had fun. Too serious will burn you out. We had a few beers every night, hung out with fans and talked to people, got to bed at two or three in the morning and then drove to the next track to grind it out."
"Here we are six races later and we won all six," he continued. "That's pretty unbelievable."
Steve Arpin had won every night in racing to the 2007 crown, when a rainout pared the tour to five events. Berry's sixth win came from the pole as he pulled away quickly at the start, caught heavy lapped traffic early and then tip-toed his way through.
A handful of mid-race cautions helped Travis Hagen move up to challenge but once he showed his nose, Berry changed his line and pulled away again. 
"It's been 15 years since Steve won five times. This tour has been going on for more than 30 years and it's pretty cool to be the first one to win six times," he said. "Maybe it was destiny. I looked up at the sky and thought about my dad. I know he's proud. We just kept trying to race hard and keep winning."
The $2,000 checkers were his Fast Shafts All-Star Invitational qualifying 11th and 12th overall in 18 starts this season. An Oregon native, Berry had been a first-time tour champion racing out of North Dakota in 2019.
Hagen had to settle for second in the feature and tour point standings. Dakota Sproul, Jeremy Keller and Ricky Alvarado completed the top five while 2021 tour champion Tim Ward hotshoed it from 23rd starting to sixth.
Shelby Williams raced to his second $1,000 IMCA Sunoco Stock Car feature win in as many nights at Mandan, also leading every lap from the pole.
As the laps wound down, Austin Daae found speed on the high line and moved up to second but ran out of laps in his attempt to catch the leader.
Randy Klein was third, Jake Nelson started 14th and finished fourth, and tour champion Trent Grager ended in fifth. Williams was second in the points race for Stock Cars.
IMCA and Hoosier Race Tire provide the $10,000 tour point fund, paying $6,500 to top 10 Modified drivers and $3,500 to top 10 Stock Car drivers.
Eighty-one Modifieds from 14 states and two provinces, and 51 Stock Cars from seven states and Canada competed over the course of the July 9-14 tour, broadcast by IMCA.TV.
Feature Results
Modifieds – 1. Tom Berry Jr.; 2.Travis Hagen; 3. Dakota Sproul; 4. Jeremy Keller; 5. Ricky Alvarado; 6. Tim Ward; 7. Jeff Taylor; 8. Spencer Wilson; 9. Mark Dahl; 10. Ethan Dotson; 11. Marlyn Seidler; 12. Shawn Strand; 13. Tanner Black; 14. Eddie Belec; 15. Matt Aukland; 16. Justin O'Brien; 17. Quentin Kinzley; 18. Ethan Braaksma; 19. Braxton Yeager; 20. Travis Tooley; 21. Jeremy Richey; 22. Marcus Tomlinson; 23. Drew Christianson; 24. Michael Leach; 25. Zach Frederick; 26. Jake McBirnie; 27. Lucas Lamberies; 28. Hank Berry.
Stock Cars – 1. Shelby Williams; 2. Austin Daae; 3. Randy Klein; 4. Jake Nelson; 5. Trent Grager; 6. Dalton Flory; 7. Rob VanMil; 8. Adam Goff; 9. Troy Heupel; 10. Brennan Borg; 11. Tim Pessek; 12. Zachary Madrid; 13. Matt Speckman; 14. Bubba Stafford Jr.; 15. Jason Berg; 16. Angel Munoz; 17. Travis Ulmer; 18. Tyler Ashley; 19. Gabriel Deschamp; 20. Mark Madrid Jr.; 21. Casey Binstock; 22. Scott Gartner; 23. Brendon LaBatte; 24. Jordan Zillmer.