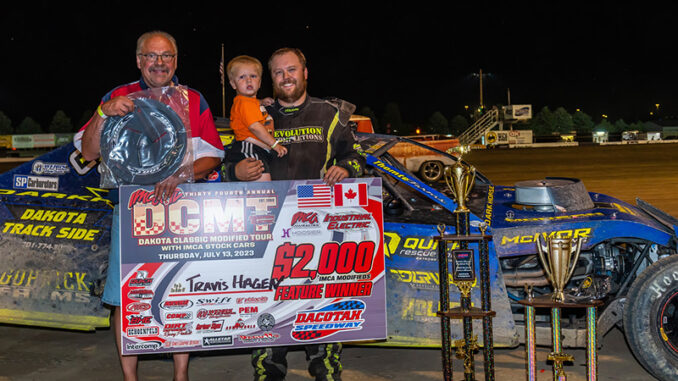 MANDAN, N.D. (July 13, 2023) – Travis Hagen and Brendon LaBatte won first-ever IMCA.TV Dakota Tour features Thursday at Dacotah Speedway.
Tim Ward and Rob VanMil, meanwhile, wrapped up tour titles during the aptly billed Championship Night show in Mandan.
Hagen led the last 26 of 30 Friesen Performance IMCA Modified laps, earning $2,000.
And LaBatte came out on top of what might have been the best race of the 34th annual tour, regaining the lead on the last lap and beating Dan Mackenthun to the IMCA Sunoco Stock Car checkers by a tenth of a second. That win was good for $1,000 and put LaBatte on the B & B Racing Chassis All-Star Invitational eligible list.
Ninety-one cars representing 16 states and two Canadian provinces saw action in the finale for the tour, title sponsored and broadcast by IMCA.TV.
Runner-up in both the first two shows of the week, Hagen became the fifth different winner in as many Modified tour features at the end of a race that ended with a 28-lap green flag run. Spencer Wilson led early and Kyle Strickler spun out of second following lap two contact to bring out the sole caution.
Hagen took command from that point and while Ward cut into his lead, he was never able to deny Hagen the checkers. Mark Dahl, Wilson and 10th starting Cody Laney completed the top five.
"It's amazing," Hagen said as the last of the confetti continued to swirl around the infield. "I've never won in Mandan before so that was a bonus."
"I looked at the leader board and saw Tim was coming," he continued, "and I knew I had to get around the lapped cars."
Hard charger Jason Wolla raced from 23rd starting to eighth. Ward had also ruled 2021 tour point standings.
The race for the Stock Car championship largely became moot when challenger for the crown Trent Grager exited while leading on lap five. LaBatte swapped the front spot with Shawn Strand and stayed in the lead through a myriad of mid-race before the 10thstarting Mackenthun came to call.
Mackenthun, chasing his first tour win as well, was finally scored first across the stripe on lap 24. LaBatte answered quickly however, getting the lead back and winning a race to the checkers by the blink of an eye.
"This win was a long time coming. It feels awesome," he said. "We've worked hard on this car and to be able to put it in victory lane was great. We had a lot of fun out there."
VanMil, the only driver with multiple feature wins during the week, wrapped up his first tour title with a third place finish. Strand and Chase Davidson were fourth and fifth, respectively.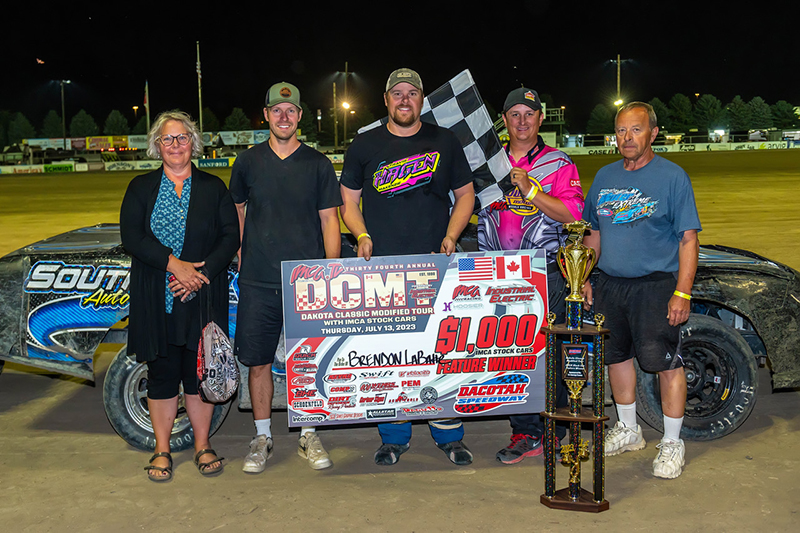 Brendon LaBatte's first Dakota Classic Tour IMCA Sunoco Stock Car feature win came in one of the best races of the week Thursday at Dacotah Speedway. (Photo by Byron Fichter)