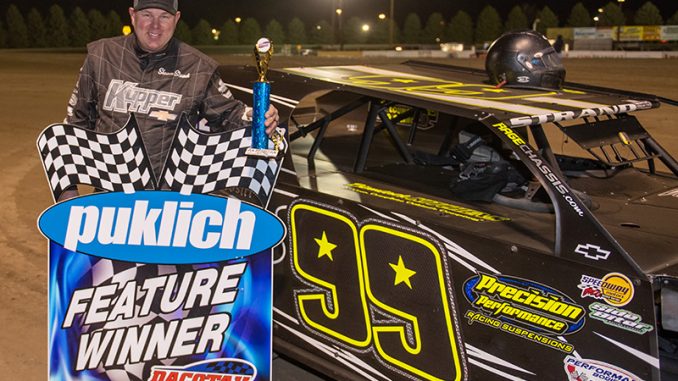 By Rebecca Rattei
MANDAN, N.D. (May 7) – Shawn Strand took advantage of a restart in winning the IMCA Modified feature on a chilly Friday night at Dacotah Speedway.
Fans packed the grandstands and saw veteran Marlyn Seidler, coming back from a rollover the previous week, in the lead early. He pulled away early before a caution erased his large lead over second place Strand.
On the restart, Strand flew by on the highside, leaving Seidler to fend off third place Quentin Kinzley. It didn't take long for the leaders to start catching lapped traffic. Using the slower cars to his advantage, Kinzley slipped by Seidler for second.
A late-race caution erased Strand's large lead over the field. On the final restart of the race, Jeremy Keller slipped by Seidler for third as Mark Dahl had his hands full with a speedy Spencer Wilson. Coming to the checkered flag, Spencer Wilson made a last lap pass over Mark Dahl to finish fifth.
Tanner Hofer led the field to the green flag in the Mach-1 Sport Compact feature. It was a four-car battle for the lead between Hofer, Alex Thompson, Cole Hanshew and Ken Sandberg.
Defending track champion, Sandberg muscled by to take the lead.Sandberg started to pull away from sec­ond place Stan Thompson while Alex Thompson battled against Hanshew for third. Thompson and Hanshew raced side-by-side for several laps before Hanshew grabbed the position.
As the laps wound down, fifth place Aiden Wagner had his hands full with a speedy Hofer. When the check­ered flag waved, Aiden Wagner held off Tanner Hofer for fifth. Alex Thompson finished fourth behind Cole Hanshew. Stan Thompson settled for second behind feature winner Sandberg. The victory was Sandberg's seventh victory in a row at Dacotah Speedway.