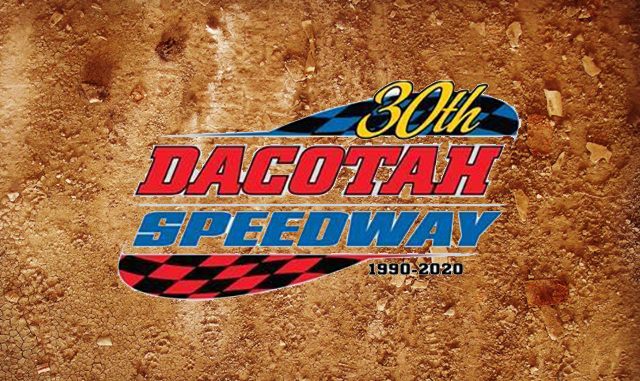 MANDAN, N.D. (Aug. 14) – Dacotah Speedway celebrated its 30th anniversary and Marlyn Seid­ler and Ken Sandberg celebrated IMCA feature wins Friday night. 
Crist Pittenger passed pole sitter Tony Marsh for the lead in the IMCA Modified feature, then was pressured by Scott Gartner and Seidler. Gartner briefly took the lead on lap seven but that was short-lived as Seidler slipped by to take the lead on lap 11.
Gartner then started to fade through the field, losing positions to Spencer Wilson, Shawn Strand and Travis Olheiser. Strand passed Wilson who then fell into the clutches of Olheiser.
Making a late-race pass, Rusty Kollman finished fifth behind Wilson. Ohleiser finished third while Strand finished a distant second. Seidler was in another zip code as he cruised to victory lane to his 97th career IMCA Modified feature victory.
JayDe Satcho and Levi Ensz battled for the initial lead in the Mach-1 Sport Compact feature. Satcho led in front of a four-car battle for second between Ensz, Sandberg, Paul Schuh and Alex Thompson.
Sandberg shuffled into the second and reeled in Satcho for the lead. A mid-race caution grouped the field and Sandberg pulled away on the restart. Satcho and Thompson raced side-by-side for second before Thompson made a late pass.
As the checkered flag waved, Thompson edged Satcho for second place. Braydee Hanson, who started ninth, passed Enze for fourth while Sandberg pulled away to win his third feature win of the season.
As part of the anniversary celebration, the first 100 spectators received free cupcakes as they walked in the fan gate.
During intermission, the first two candidates for the Dacotah Speedway Hall of Fame were an­nounced, long-time volunteer Curt Klein and former race car driver, Carrie Mundahl. The track also honored the race car drivers lost within the past year.