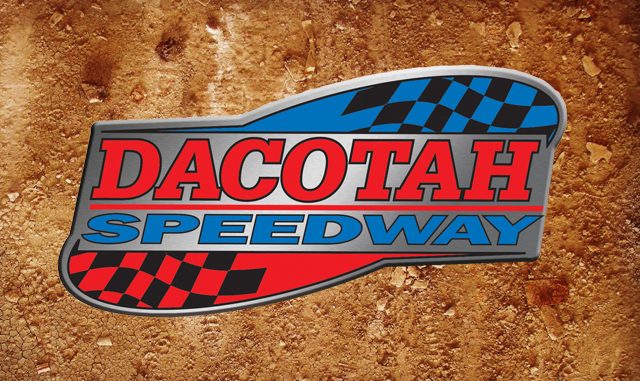 By Rebecca Rattei
MANDAN, N.D. (May 28) – Jeremy Keller held off Casey Arneson for the IMCA Modified feature win on Military Appreciation Night at Dacotah Speedway.
Scott Gartner and Travis Tooley battled for the early lead and Tooley grabbed the front spot before a caution regrouped the field. On the restart, Gartner lost positions to Spencer Wilson, Shawn Strand, Arneson and Marlyn Seidler.
As Tooley started to pull away, Keller cracked the top five and quickly passed Arneson, Strand and Wilson. Keller reeled in Tooley and took the lead with 10 laps to go. A couple late-race cautions erased Keller's large lead and put a speedy Arneson on his rear bumper.
But on the final restart, Arneson struggled to get around Keller. When the checkered flag waved, Keller outran Arneson for the feature win. Tooley, who led most of the race, settled for third while Seidler finished fourth ahead of Crist Pittenger.
After two complete restarts in the Mach-1 Sport Compact feature, it was a three-wide battle for the lead between Tanner Hofer, Stan Thompson and Ken Sandberg.
Sandberg split Hofer and Thompson and powered into the lead. Stan Thompson stayed close with Sandberg as Hofer had his hands full with fourth place Alex Thompson. They briefly raced side-by-side until Alex Thompson cleared Hofer for third.
Aiden Wagner reeled in Hofer and with three laps to go and Wagner slipped by to take fourth. Hofer rallied back to challenge for position but when the checkered flag waved, Aiden Wagner narrowly edged Tanner Hofer for fourth. Alex Thompson finished third as Sandberg held off Stan Thompson for his 10th straight feature victory at Mandan.