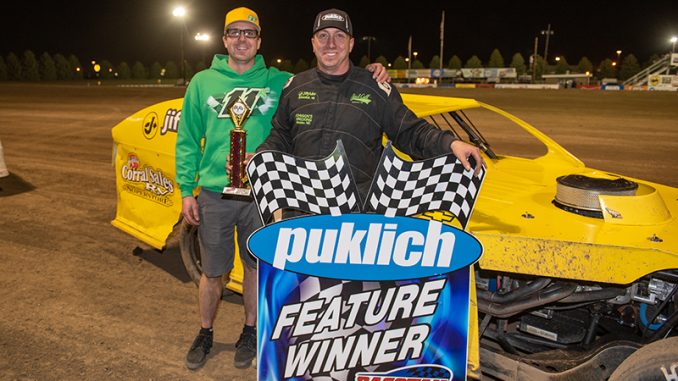 By Rebecca Rattei
MANDAN, N.D. (April 30) – Dacotah Speedway kicked off its 2021 racing season with more than 110 cars from all over the Midwest checked in to officially kick off dirt track racing in North Dakota.
Jeremy Keller was the IMCA Modified winner and Ken Sandberg scored the Mach-1 Sport Compact main event victory.
After a complete restart in the Modified feature, pole sitter Mark Dahl and Quentin Kinzley battled for the lead. Kinzley grabbed the lead before an early caution regrouped the field. On the restart, Kinzley pulled away while Mark Dahl, Marlyn Seidler and Shawn Strand raced hard for second. Dahl got loose off turn four which resulted in Dahl turning into Seidler and sent him rolling down the front stretch. Seidler was OK but his night was cut short
On the restart, Kinzley and Strand made contact racing for the lead. The contact broke Strand's right front tie rod which drew a caution. On the final restart of the night, Keller dove low under Kinzley. They raced side-by-side until Keller grabbed the lead with two laps to go.
Keller led the final two laps to win the feature over Kinzley. Jason Wolla, who started 16th, finished third. Matt Aukland finished fourth while Spencer Wilson rounded out the top five.
Alex Thompson and Sandberg battled for the lead in the Sport Compact feature. They raced side-by-side until Sandberg grabbed the lead. The race was halted on lap two when Levi Ensz rolled his car in corner four. Ensz was thankfully okay but his night was officially over.
On the restart, Sandberg pulled away while Stan Thompson and Alex Thompson raced hard for second. When the checkered flag waved, Stan held off Alex at the finish line. Shad Pederson finished fourth while Tom Dworshak rounded out the top five.