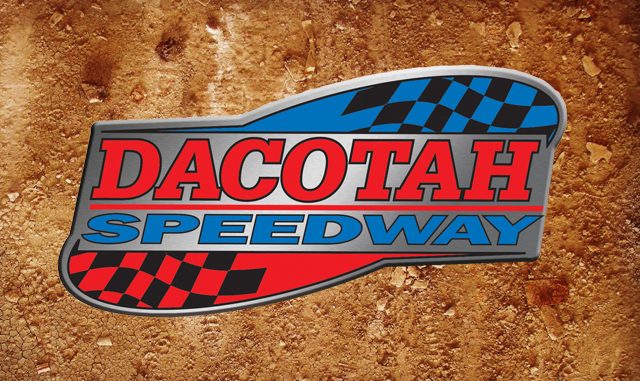 By Rebecca Rattei 
MANDAN, N.D. (June 18) – What began as three-car battle ended with a fourth driver back in victory lane Friday at Dacotah Speedway.
Scott Gartner, Zach Frederick and Mark Dahl tussled early. Frederick shuffled into the lead as Jeremy Keller quickly worked his way into the top five and then passed Dahl for second.
Using the high line around the track, Keller reeled in Frederick and they briefly raced for the lead. Keller took the lead on lap five and pulled away from the field. Frederick then lost positions to Quentin Kinzley, Dahl and Spencer Wilson.
When the checkered flag waved, Keller picked up the feature win. Dahl held off Wilson for second place. Kinzley finished fourth while Frederick finished fifth.
Shad Pederson and Lane Doll started on the front row of the Mach-1 Sport Compact feature. They raced door-to-door for the lead, allowing Stan Thompson and Ken Sandberg to make it a four-car battle.
Contact among the leaders allowed Sandberg to slip by and pull away from the field. Stan Thompson shuffled into the second position as Pederson and Alex Thompson raced for third. Sandberg dominated and won his seventh feature victory of the season.
Stan Thompson finished a distant second ahead of Alex Thompson. Pederson finished fourth as Mason Rust finished fifth in his racing debut.