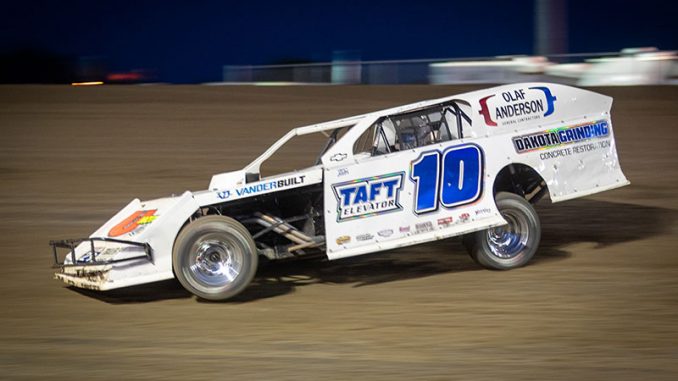 MANDAN, N.D. (July 12) – Austin Arneson was almost as fast as the lightning on the horizon Friday night at Dacotah Speedway.
Arneson led all 40 laps of the fourth Corral Sales Legendary main event, earning a career-best $10,004 payday, a $500 bonus as the leader at midway and a berth on the Fast Shafts All-Star Invitational ballot.
He'll join younger brother Casey, runner-up in both the Legendary and Thursday's Kupper Chevrolet Dakota Classic Tour finale at Mandan, on the All-Star ballot.
"I've raced all over the country with the biggest names in the Modified division," said Arneson, who took the checkers in front of a number of those drivers. "Winning the race was pretty exciting, but what was even more exciting was running 1-2 with my brother."
Ricky Thornton Jr., Hunter Marriott and Lucas Schott rounded out the top five. Dakota Classic Modified Tour champion Tom Berry ran second most of the way before breaking late.
After the initial green flag was delayed by a light rain shower and work on the racing surface, Arneson started outside Joel Rust on the front row.
Arneson quickly distanced himself from the field and was into traffic before the 10th circuit was scored. Berry closed in and the front two battled for the lead while negotiating lapped cars but Arneson held on to the top spot.
"Before we got to lapped traffic, I ran the middle to high side," Arneson said. "Then I went all over the place, high, middle, diving down low to get through. It was a lot of fun."
A caution regrouped the field on lap 23, which also happened to be the random point near halfway that officials picked before the race for a five-minute intermission.
That was also the point when the decision was made to cut the length of the race by 10 laps due to lightning near in the area and threatening weather 
Arneson pulled away from the rest of the field on the restart, again seeing Berry catch up in traffic.
As the white flag waved, Berry broke and Thornton inherited the second position. Casey Arneson passed the two-time and defending race winner for the runner-up spot on the last lap.
The 33-car main event field was represented by drivers from seven states and Saskatchewan.
Feature results – 1. Austin Arneson, Fargo; 2. Casey Arneson, Fargo; 3. Ricky Thornton Jr., Adel, Iowa; 4. Hunter Marriott, Brookfield, Mo.; 5. Lucas Schott, Chatfield, Minn.; 6. Jason Hughes, Watts, Okla.; 7. Joel Rust, Grundy Center, Iowa; 8. Travis Hagen, Williston; 9. Tanner Black, Otis, Kan.; 10. Jason Wolla, Ray; 11. Dylan Goplen, Fargo; 12. Troy Cordes, Dunkerton; 13. Kody Scholpp, Estevan, Sask.; 14. Jacob Bleess, Chatfield, Minn.; 15. Alex Stanford, Chowchilla, Calif.; 16. Marlyn Seidler, Underwood; 17. Jeff Taylor, Cave City, Ark.; 18. Brad Hartigan, Dickinson; 19. Matt Aukland, Glyndon, Minn.; 20. Shawn Strand, Mandan; 21. Myles Tomlinson, Turtle Lake; 22. Jesse Skalicky, Fargo; 23. Billy Kendall, Baxter; 24. Travis Ulmer, Mandan; 25. Marcus Tomlinson, Turtle Lake; 26. John Corell, Jamestown; 27. Jon Plowman, Woodbine, Iowa; 28. Tom Berry Jr., Newburg; 29. Robert Hellebust, Minot; 30. Spencer Wilson, Minot; 31. Mark Dahl, Bismarck; 32. Tracy Domagala, Bismarck; 33. Tyler Hall, Fertile, Minn.