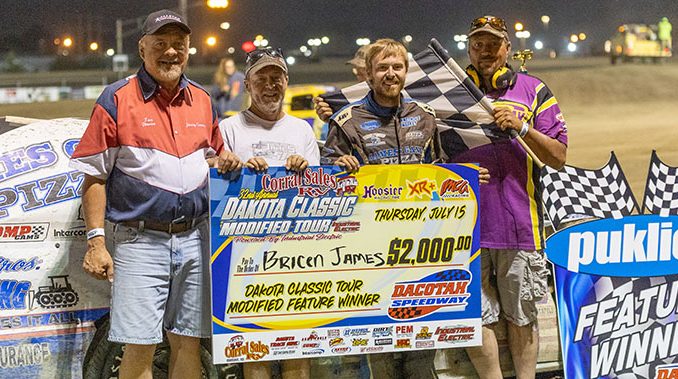 MANDAN, N.D. (July 15) – On opening night of the Corral Sales Dakota Classic Tour, Bricen James didn't believe he had a top 10 car.
But the Oregon driver stood on the top step of the podium on the final night of the 32nd annual tour after leading all 30 laps of the $2,000 to win IMCA Modified feature at Dacotah Speedway.
"The car was so easy to drive. It was just perfect," he said following the Thursday checkers. "This is our first time on the tour so we've never been to any of these tracks. Winning (tonight) was pretty danged cool."
His best finish in four tour starts, before a Wednesday DNQ, had been 17th. Making some minor changes led to a "less aggressive" setup that paid off at Mandan.
Timely cautions kept lapped cars from becoming a factor and James was catching up with the back of the field at the finish. Former tour champion Marlyn Seidler was runner-up.
Tripp Gaylord and Ethan Dotson were next across the stripe. Tim Ward's charge from 13th starting to fifth earned him the tour title and lion's share of the $6,500 Modified point fund.
"We struggled in some of our heat races and always had to come from a little ways back," said Ward, champion in his fifth year on tour. "Anything can happen over six days. We were able to have six good runs and a couple second place finishes and pull off the championship."
Tom Berry Jr., another former tour champ, started 24th and finished seventh.
James' win was his fifth this season and first-ever in the Midwest.
"We raced with a lot of these guys earlier in the season in Arizona," he said. "At the beginning of the week I didn't think we had a top 10 car. Now it feels good to know I can run with them."
Jake Nelson's up-and-down week ended with the $1,000 IMCA Sunoco Stock Car win. He'd spent most of eight hours in the shop after getting caught up in a multi-car tangle at Minot and ended the tour with second, third and first-place finishes.
"This is the biggest win of my career," Nelson said of his career-first tour triumph. "It's kind of unreal. It's a dream come true."
He led all 25 laps of a race interrupted by just two cautions, ending Dalton Flory's tour win streak at three.
Flory stayed close and ended in second. Zachary Madrid clinched the champion's share of the $3,500 Stock Car point fund with his third-place showing.
Now a three-time winner this year, Nelson has a collection of second-place finishes behind Madrid in Arizona and Flory in North Dakota as well.
Angel Munoz and Andrew Jochim rounded out the Stock Car top five.
Feature Results
Modifieds – 1. Bricen James; 2. Marlyn Seidler; 3. Tripp Gaylord; 4. Ethan Dotson; 5. Tim Ward; 6. Spencer Wilson; 7. Tom Berry Jr.; 8. Dakota Sproul; 9. Cody Laney; 10. Justin O'Brien; 11. Ricky Alvarado; 12. Dominic Ursetta; 13. Jake McBirnie; 14. Quentin Kinzley; 15. Jeremy Keller; 16. Eddie Belec; 17. Jeff Taylor; 18. Drew Christianson; 19. Troy Cordes; 20. Steven Pfeifer; 21. Greg Gustus; 22. Marcus Tomlinson; 23. Zach Frederick; 24. Jordan Sours; 25. Scott Gartner; 26. Tanner Black; 27. Lucas Lamberies; 28. Matt Aukland.
Stock Cars – 1. Jake Nelson; 2. Dalton Flory; 3. Zachary Madrid; 4. Angel Munoz; 5. Andrew Jochim; 6. Mike Swallers; 7. Jace Iverson; 8. Shawn Volk; 9. Adam Goff; 10. Scott Gartner; 11. Billy Preston; 12. Gabriel Deschamp; 13. Jason Kniffen; 14. Jason Berg; 15. John Gartner Jr.; 16. Hunter Cavanagh; 17. Travis Ulmer; 18. Casey Binstock; 19. Rob Stenvold.