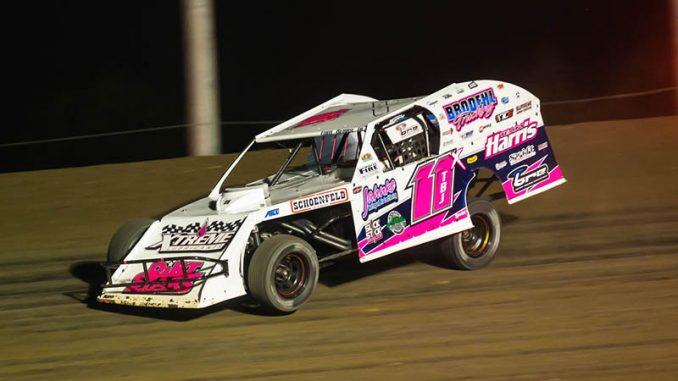 By Becca Pelkey
JAMESTOWN, N.D. (July 9, 2022) – Tom Berry Jr. raced his way back to a familiar locale on opening night of the Corral Sales IMCA Dakota Classic Modified Tour Saturday at Jamestown Speedway.
Hooked up and flying from the start of the 30-lapper for Friesen Performance IMCA Modifieds, Berry led every time around the oval in collecting the $2,000 checkers and his seventh Fast Shafts All-Star Invitational qualifying victory already this season.
More than 50 IMCA Modified drivers traveled from across the United States and Canada to compete in the prestigious six-day tour. Drivers from 11 states and Saskatchewan made up the main event field.
Former tour champion Berry, who'd previously raced out of North Dakota and already well acquainted with victory lane at Jamestown, didn't take long to catch lapped traffic after each early restart.
He was extra cautious passing each car, which allowed second place running and defending Jamestown race winner Kollin Hibdon to reel him in.
A caution with two laps to go reset the field and Hibdon gave it all he had but had to settle for second. 2014 tour champion Jeff Taylor, Tanner Black and Jake McBirnie completed the top five.
Berry had also started his quest for the 2019 tour title with the win at Jamestown.
Thirty-seven IMCA Sunoco Stock Cars were entered on opening night and Randy Klein was in the right place at the right time to capitalize in the main event.
Pole sitter Brennan Borg pulled away on the initial green and after an early restart, ran ahead of a four-wide battle between Mike Hagen, Trent Grager, Klein and Scott Gartner.
Hagen and Klein powered into the second and third, respectively, and quickly reeled in Borg. Contact among the frontrunners allowed Hagen to grab the lead but he had his hands full with Grager and Klein.
With just two laps to go, Hagen spun out in front of the field and brought out a caution. Klein inherited the lead and held on to win the feature and $1,200. He was already B & B Racing Chassis All-Star qualifying eligible.
Texan Shelby Williams raced from 14th to second. Grager, Borg and Gartner ran 3-4-5.
Feature Results
Modifieds – 1. Tom Berry Jr.; 2. Kollin Hibdon; 3. Jeff Taylor; 4. Tanner Black; 5. Jake McBirnie; 6. Travis Hagen; 7. Lucas Lamberies; 8. Tim Ward; 9. Kelsie Foley; 10. Paul Stone; 11. Jason Wolla; 12. Drew Christianson; 13. Dakota Sproul; 14. Eddie Belec; 15. Ricky Alvarado; 16. John Corell; 17. Shawn Strand; 18. Jeremy Keller; 19. Jeremy Thornton; 20. Justin Medler; 21. Scott Gartner; 22. Joey Galloway; 23. Chris Tuchscherer; 24. Isaac Sondrol; 25. Brady Bjella; 26. Cody Peterson; 27. Braxton Yeager; 28. Steven Pfeifer.
Stock Cars – 1. Randy Klein; 2. Shelby Williams; 3. Trent Grager; 4. Brennan Borg; 5. Scott Gartner; 6. Dalton Flory; 7. Angel Munoz; 8. Jake Nelson; 9. Brendon LaBatte; 10. Jason Berg; 11. Zachary Madrid; 12. Austin Daae; 13. Jeremy Swanson; 14. Bubba Stafford Jr.; 15. Brody Carlsrud; 16. Austin Brands; 17. Joe Flory; 18. Kalvin Kesselberg; 19. Tyler Ashley; 20. Mike Hagen; 21. Chris McCurdy Jr.; 22. Matt Speckman; 23. Rob VanMil; 24. Tim Pessek.