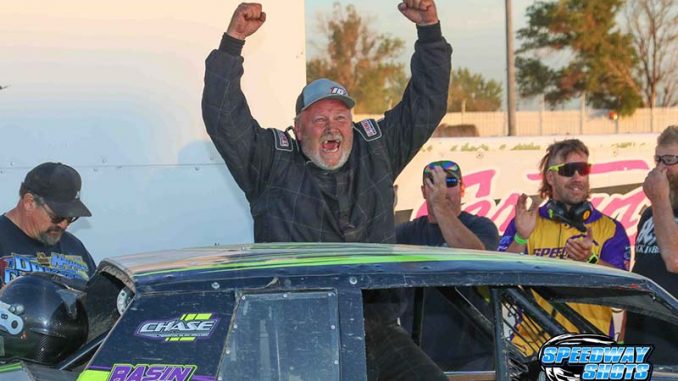 WILLISTON, N.D. (July 13) – A day after forgetting to go to tech after winning his 'B' main, Jake O'Neil started 14th in the Moritz Sport & Marine Dakota Classic IMCA Modified Tour presented by Bismarck Motor Company feature at Williston Basin Speedway. What ensued after that was a memorable contest for the Arizona racer.
Collen Winebarger started on the pole and jumped out to the lead early. Robert Hellebust, made a move around the outside of Winebarger on lap eight but jumped the cushion, allow Hagen and O'Neil to drive under and set their sights on the leader.
Hagen shot around the top side, officially taking the lead on lap 12. Hellebust followed as the top line became the preferred line.
O'Neil drove around Hellebust, then ripped around the top lane, catching up to Hagen, who was catching the back of the field. On lap 27, O'Neil got spun by a lap car and got his spot back for the restart.
The race ended green, white, checkered and O'Neil had a great restart, motoring to the $2,400 win ahead of Hellebust.
In the IMCA Sunoco Stock Cars, a $1,500 bounty on Elijah Zevenbergen after winning the first three nights of the tour kept competition tense. Eric Mahlik settled into the lead with Zevenbergen behind him while 12th starting "Mad" Mike Hagen rode the rim of the track all the way up to third by lap four.
Austin Daae, the lone Canadian, fought with Hagen for that third spot while Zevenbergen reeled in Mahlik. By halfway through the 20-lap contest, Zevenbergen had figured out that the high line had some speed and snuck around Mahlik for the lead.
Hagen drove a calm race around the high side, eventually passing Mahlik with five to go. Zevenbergen broke and he ended his night watching Hagen, Mahlik and the field pass him.
Mahlik tried multiple lines around the race track but could not make up enough ground to get to hometown talent Hagen. Dalton Flory, who started 26th, Angel Munoz, and Jordan Zillmer finished out the Top 5. Hagen collected the $1,500 bounty after it was ruled that Zevenbergen started the race and was not wrecked out.
Feature Results
Modifieds – 1. Jake O'Neil; 2. Robert Hellebust; 3. Travis Hagen; 4. Collen Winebarger; 5. Austin Arneson; 6. Ricky Alvarado; 7. Jacob Bleess; 8. Jason Wolla; 9. Shane DeVolder; 10. Tanner Black; 11. Marcus Tomlinson; 12. Chris Bragg; 13. Billy Kendall; 14. Eddie Belec; 15. Kyle Brown; 16. Greg Gustus; 17. Grey Ferrando; 18. Jeff Taylor; 19. Kyler Jeffrey; 20. Alex Stanford; 21. Jeremy Sorenson; 22. John Corell; 23. Tripp Gaylord; 24. Kelsie Foley; 25. Justin O'Brien; 26. Casey Skyberg; 27. Travis Olheiser; 28. Hank Berry; 29. John Flory; 30. Ryan Gaylord.
Stock Cars – 1. Mike Hagen; 2. Eric Mahlik; 3. Dalton Flory; 4. Angel Munoz; 5. Jordan Zillmer; 6. Chanse Hollatz; 7. Travis Ulmer; 8. Dave Swallers; 9. Joe Flory; 10. Chris Ellis; 11. Brennan Borg; 12. Matt Speckman; 13. Keith Mattox; 14. Mike Swallers; 15. Cole Trickle; 16. Jake Brown; 17. Joren Boyce; 18. Michael Logelin; 19. Elijah Zevenbergen; 20. Adam Goff; 21. Austin Daae; 22. Jace Iverson; 23. Kevin Roberts; 24. Tripp Gaylord.