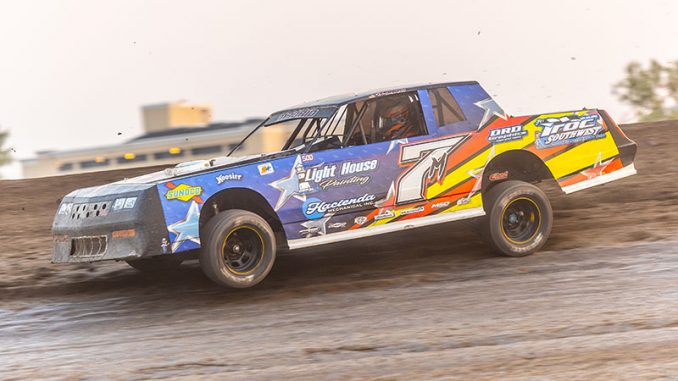 By Rebecca Rattei
MINOT, N.D. (July 11) – Ethan Dotson's IMCA Modified success in the Midwest continued on Sunday, as the Corral Sales Dakota Classic Tour moved to Nodak Speedway for night two.
Dotson got the best of Tripp Gaylord in a back-and-forth battle, regaining the lead on the last lap and then pulling away to the $2,000 IMCA Modified victory at the North Dakota State Fairgrounds oval.
"The Dakota Tour has always been a big deal. It's pretty cool to finally be able to win one of these races," the California driver said. "There were a lot of good cars from a lot of states here."
Minot's own Steven Pfeifer led the field to the green flag and raced side-by-side with Dotson who eventually grabbed the lead 10 laps into the 30-lapper.
Gaylord used a series of mid-race cautions to his advantage in catching Pfeifer for second. As the laps wound down, Gaylord was all over Dotson's rear bumper before pulling ahead.
"I chose the wrong line with about three to go," Dotson said, "but was lucky and was able to get back around him."
Cody Laney, Pfeifer and Lucas Lamberies ran third through fifth, respectively. Eddie Belec moved up nine spots to sixth and Jake McBirnie was a plus 12 on the night, finishing seventh.
After winning the last-chance qualifier, Tim Ward started 25th and charged to 10th.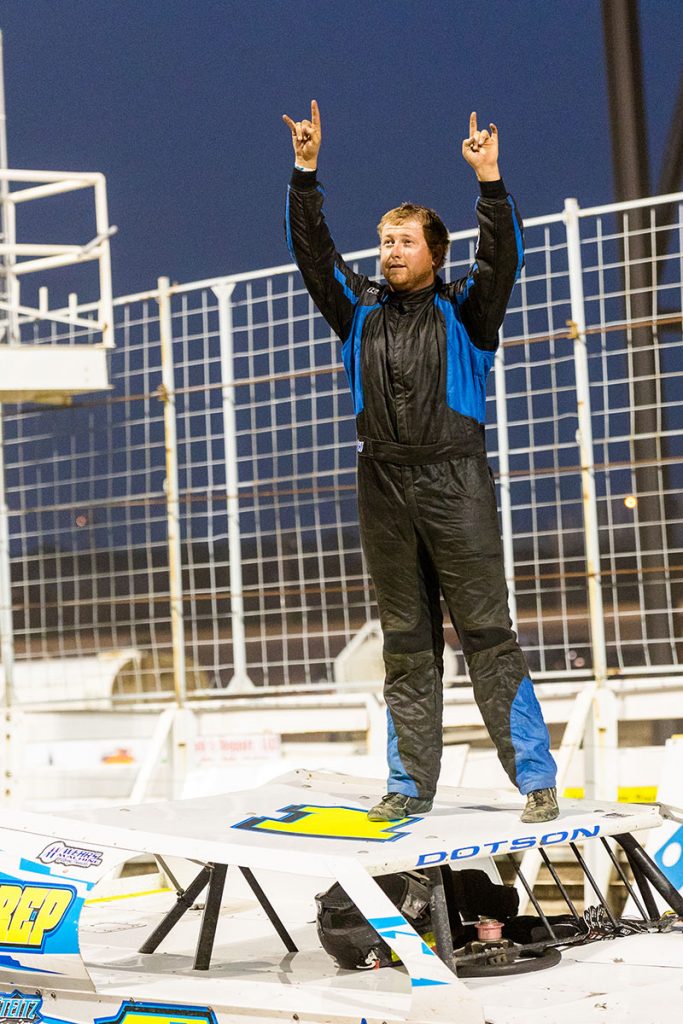 Ethan Dotson saw his success in the Midwest continue with the Sunday night Corral Sales Dakota Classic Tour checkers at Nodak Speedway. (Photo by Tyler Hagen)
Zachary Madrid won the first sanctioned event of the season, on New Year's Day in his home state of Arizona, and added another line to his resume by topping Sunday's IMCA Sunoco Stock Car event.
Madrid grabbed the lead from pole sitter Jake Nelson and had his hands full as Dalton Flory and Mike Swallers were all over his rear bumper.
A mid-race caution regrouped the field but Madrid held off 2014 tour champion Flory and Swallers for the "huge" $1,000 win.
"I figured they'd be throwing some big sliders at me trying to get by," said Madrid, who'd followed only the Modified half of the tour last year and won in the first Stock Car built by IROC Southwest. "Dalton is fast and showed me his nose with seven or eight laps to go, but I just tried to keep running my race and got the win."
Dotson was already on the ballot for the Fast Shafts All-Star Invitational and Madrid already eligible to qualify for the B & B Chassis All-Star Invitational.
Feature Results
Modifieds – 1. Ethan Dotson; 2. Tripp Gaylord; 3. Cody Laney; 4. Steven Pfeifer; 5. Lucas Lamberies; 6. Eddie Belec; 7. Jake McBirnie; 8. Dakota Sproul; 9. Jeff Taylor; 10. Tim Ward; 11. Aaron Turnbull; 12. Collen Winebarger; 13. Troy Cordes; 14. Wayne Johnson; 15. Zachary Madrid; 16. Travis Hagen; 17. Dominic Ursetta; 18. Kyle Brown; 19. Jerad Thelen; 20. Tanner Black; 21. Spencer Wilson; 22. Kelsie Foley; 23. Ryan Schroeder; 24. Hank Berry; 25. Paul Stone; 26. Casey Arneson; 27. Bricen James; 28. Justin O'Brien.
Stock Cars – 1. Zachary Madrid; 2. Dalton Flory; 3. Mike Swallers; 4. Travis Ulmer; 5. Angel Munoz; 6. Ryan Gaylord; 7. Mike Hagen; 8. Jake Nelson; 9. Adam Goff; 10. Shawn Volk; 11. Billy Preston; 12. Gabriel Deschamp; 13. Rob Stenvold; 14. Bob Fuegmann; 15. Jason Berg; 16. Jason Kniffen; 17. Hunter Cavanagh; 18. Brady Bjella; 19. Trent Grager; 20. Tyler Bartholomew; 21. Cody St. Croix; 22. Justin Thornton; 23. Chad Bush; 24. Jace Iverson; 25. Tyler Ashley.