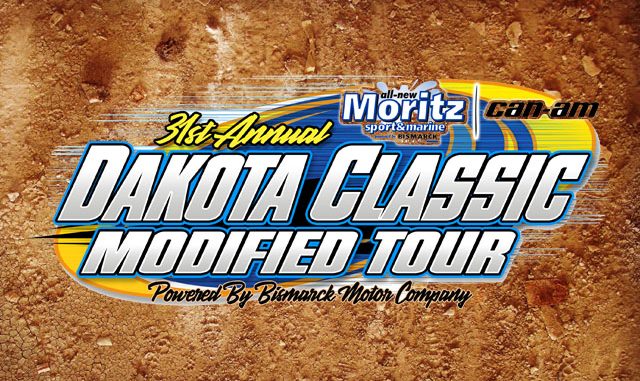 MANDAN, N.D. – The 31st annual Moritz Sport & Marine Powered by Bismarck Motor Company Dakota Classic IMCA Modified Tour has announced a change in their schedule as Estevan, Sask., will not be able to host what was to be the opening night of the Tour on Saturday, July 11 due to an extension of the border closure resulting from the Covid 19 situation.
The tour has been working on a "Plan B" for several weeks in case Estevan could not race. The operators of the Red River Valley Speedway in West Fargo, N.D., were contacted and an agreement has been secured that will allow the tour to start in West Fargo on Friday, July 10.
Red River Valley Speedway hosted a tour event way in 1991 when the track was a ½-mile facility. The current track is now 3/8 mile with a huge grandstand and parking for over 300 tow rigs in their large pit area. The facility is a part of the expansive Red River Valley Fairgrounds just off of I-94.
Jamestown Speedway will now host Round II of the series on Saturday, July 11. The facility is located on the Stutsman County Fairgrounds and is a ¼-mile high banked track with pit parking for over 300. Jamestown was one of the original three tracks that made up the first tour back in 1990.
Nodak Speedway in Minot was not going to be in the Tour this year due to a conflict with the North Dakota State Fair. However, the fair was canceled a few weeks ago so a date at Minot will replace Estevan on the tour.
Minot will race on Sunday, July 12 starting at 6 p.m. Nodak Speedway has been in existence since the early 1950's and features a high banked 3/8-mile track with a huge 6,000 plus capacity grandstand and pit parking that will, in reality, be unlimited this year with the closure of the fair.
Williston Basin Speedway will race on Monday, July 13 as originally scheduled. The ¼-mile, high-banked track is located on the Upper Missouri Valley Fairgrounds on the north side of Williston just off US Highway 85. The newly updated and improved facility has parking for 300-plus tow vehicles and seating for over 2,000 spectators.
Southwest Speedway in Dickinson will take the Tuesday, July 14 date. The facility south of Dickinson, just off of Highway 22, features a ¼-mile track, a newer grandstand with additional hillside seating, and great viewing for racers on the back stretch. An overflow area has been established during the tour for the many trucks and trailers that follow the tour.
The tour wraps up its six consecutive night swing with Championship Night at Dacotah Speedway in Mandan. The facility features a high banked 3/8-mile track, along with three pit areas and a grandstand that seats 4,000, surrounded by a park-like atmosphere that is a driver and fan favorite.
Tom Berry Jr. won the IMCA Modified Tour championship last year and Rickey Thornton Jr. took home the IMCA Sunoco Stock Car title. Both will be back to defend their titles in 2020.
All Modified main events will pay $2,400 to win and a minimum of $300 to start the 30-car Fast Shafts All-Star Invitational ballot qualifying feature. All drivers not qualifying for the feature receive $100 tow money, courtesy of Moritz Sport and Marine.
The IMCA Sunoco Stock Car feature will pay a record $1,000 to win the 24-car feature, with $100 to start the race.
A $2,000 point fund for the IMCA Modifieds and $1,000 point fund for the IMCA Sunoco Stock Cars will be awarded courtesy of Moritz Sport & Marine. Over $20,000 in contingency awards will be given.
IMCA rules will be in effect and an IMCA official will be in charge of tech at all tour events. Mike Van Genderen of Stuart Speedway in Iowa will flag all races. Tour owner John Gartner will be the tour director again. He can be contacted at (701) 202-6075. Driver pre-registration is now open at the Tour's website www.dakotamodtour.com There is no cost to pre-register in either division.
The tour wishes to thank you to Estevan Motor Speedway and their volunteers for all their hard work they had put into the dates that were lost due to the border closing. They will be back in 2021 as a part of the Tour.