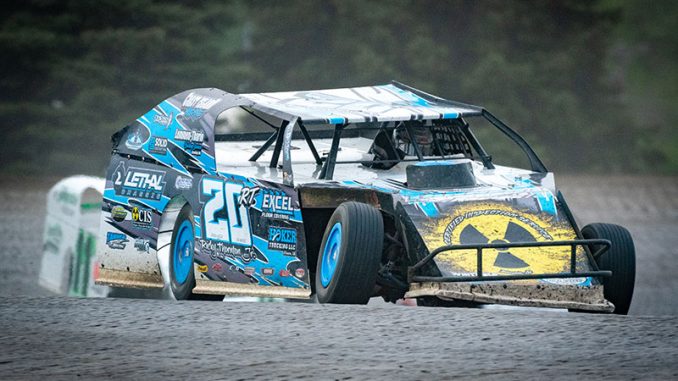 MANDAN, N.D. (June 1) – Ricky Thornton Jr. proved his mettle in Saturday's 100-lap Iron Man main event for IMCA Modifieds at Dacotah Speedway.
As a result, he took home $5,000 from his latest Fast Shafts All-Star Invitational ballot qualifying victory.
In a replay from their opening night qualifying feature finish, Thornton and Tom Berry Jr. ran 1-2 in the finale at Mandan. Marlyn Seidler, Robert Hellebust and Casey Arneson rounded out the top five.
Thornton had driven away from the rest of the field from his outside front row starting spot but his huge lead was erased by a lap 21 caution.
Berry slipped by Thornton following the restart and pulled a disappearing act of his own before the mandatory lap 50 caution.
When the race resumed, Thornton retook the lead and pulled away. Seidler made a late-race pass of Hellebust to grab third.
Kelly Henderson started 11th and finished first in the opening night feature for Karl Kustoms Northern SportMods following the 2Strong Summer Dirt Series. Chase Conway battled Henderson before ending in second.
Christopher Zenz also had to work his way to the front, then duel with Paul Schuh before taking the Mach-1 Sport Compact checkers.
Feature Results
Modifieds – 1. Ricky Thornton Jr.; 2. Tom Berry Jr.; 3. Marlyn Seidler; 4. Robert Hellebust; 5. Casey Arneson; 6. Jeremy Keller; 7. Shawn Strand; 8. Spencer Wilson; 9. Jason Wolla; 10. Mike Hansen; 11. Travis Hagen; 12. Tracy Domagala; 13. Chris Schroeder; 14. Josh Rogotzke; 15. Jesse Skalicky; 16. William Kendall; 17. Marcus Tomlinson; 18. Zach Dockter; 19. Tyler Hall; 20. Josh Eberhardt; 21. Mark Dahl; 22. Travis Ulmer; 23. Travis Tooley; 24. Dylan Goplen.
Northern SportMods – 1. Kelly Henderson; 2. Chase Conway; 3. Erik Laudenschlager; 4. Brady Bjella; 5. Isaac Sondrol; 6. Brock Beeter; 7. Luke Johnson; 8. Kyle Krogh; 9. Eric Paul; 10. Luke Krogh; 11. Philip Keller; 12. Deryk Keller; 13. Jeff Bieber; 14. Cole Hanshew; 15. Paul Wanner; 16. Logan Schmitz; 17. Robby Rosselli; 18. Evan Morast; 19. Dennis Chapman; 20. Darren Medler; 21. Zach Frederick; 22. Chad Strachen; 23. Jordan Braun; 24. Chaz Mosby.
Sport Compacts – 1. Christopher Zenz; 2. Paul Schuh; 3. Corey Helgeson; 4. Stan Thompson; 5. Alex Thompson; 6. Zachary Ihly; 7. James Gilbert; 8. Craig Kastner; 9. Tanner Hofer; 10. Michael Perry; 11. John Avard; 12. Ben Schmidt; 13. Jayde Satcho; 14. Braydee Hanson; 15. Andy Reed.