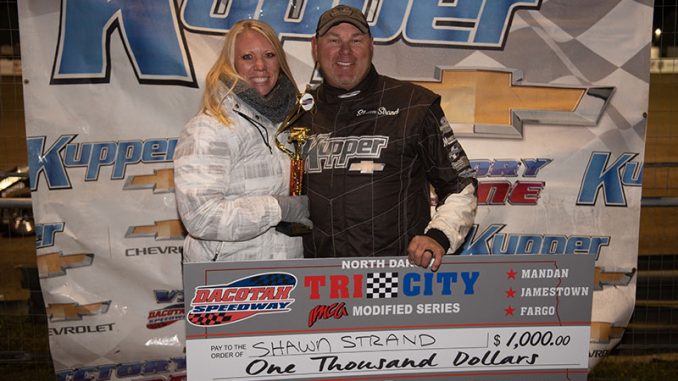 MANDAN, N.D. (Sept. 27) – Shawn Strand ended September with the IMCA Modified feature win at Dacotah Speedway's Oktoberfest special. 
Strand caught Marlyn Seidler late in a 30-lapper that stayed green after two early cautions for the $1,000 checkers and Fast Shafts All-Star Invitational ballot berth.
"It was my last race of the year and I had a good car. It was a good way to put her away for the season," he said.
Seidler ended in second. Rounding out the top five were Travis Olheiser, 14th starting Travis Tooley and hard charger Jeremy Keller, who'd started 17th.
Seidler had gotten out to a four to five car length advantage over the fourth starting Strand, maintaining that advantage while working lapped traffic.
Strand then found the speed he needed on a higher line, catching the leader with six circuits left.
The win was his fourth of 2019, his second of the season at Mandan and IMCA career 74th. Oktoberfest doubled as a Tri-City Modified Series event.
Zach Frederick beat eighth starting Robby Rosselli and Kelly Jacobson to the Karl Kustoms Northern SportMod checkers. Craig Kaster topped the Mach-1 Sport Compact main ahead of Braydee Hanson and Andy Reed.
Feature Results
Modifieds – 1. Shawn Strand; 2. Marlyn Seidler; 3. Travis Olheiser; 4. Travis Tooley; 5. Jeremy Keller; 6. Robert Hellebust; 7. Dylan Goplen; 8. John Corell; 9. Mark Dah; 10. Drew Christianson; 11. Les McLenehan; 12. Scott Gartner; 13. Josh Jones; 14. Rusty Kollman; 15. Jarrett Carter; 16. Tyler Hall; 17. Mike Tomlinson; 18. Tim Perkins; 19. Darren Schatz; 20. Dillon Price; 21. Kyler Jeffrey; 22. Austin Arneson; 23. Andrew Bargmann.
Northern SportMods – 1. Zach Frederick; 2. Robby Rosselli; 3. Kelly Jacobson; 4. Luke Krogh; 5. Scott Jacobson; 6. Philip Keller; 7. Isaac Sondrol; 8. Brady Bjella; 9. Deryk Voller; 10. Jordan Binstock; 11. Torey Fischer; 12. Tanner Weeks; 13. Caden Roberts; 14. Ken Stadick; 15. Paul Wanner.
Sport Compacts – 1. Craig Kastner; 2. Braydee Hanson; 3. Andy Reed; 4. Nathan Mundahl; 5. Peder Dekrey; 6. Breanna Gartner.