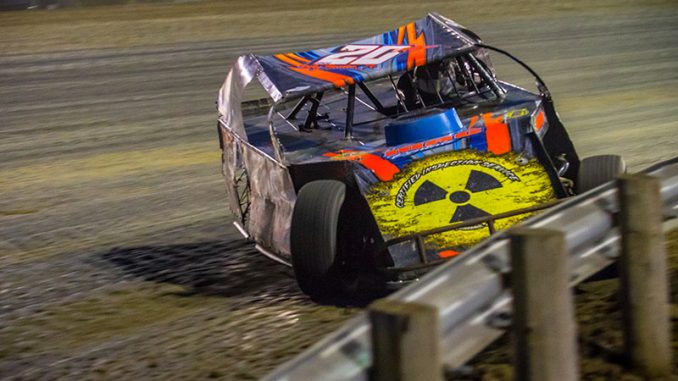 By Mike Spieker
MANDAN, N.D. (July 13) – For the third consecutive year, the Legendary 50 at Dacotah Speedway brought the Kupper Chevrolet Dakota Classic IMCA Modified Tour week to a close.
And for the second time in those three years, the driver taking home the big check – this time $10,003 – following the 33-car, 50-lap main event was Ricky Thornton Jr.
Thornton backed up his inaugural Legendary 50 win Friday night, leading the final 35 trips around the high-banked, 3/8-mile clay oval.
"I knew I was starting around some pretty fast cars. I felt confident with my car and was ready to get the race started," said Thornton, who took the initial green from the eighth spot. "We were good running the bottom the night before and that was where I wanted to run again."
Eddie Belec, Jason Wolla and Shawn Strand made up the front row of the three-wide start as the field of 11 rows charged to the green flag. Strand took the lead on the opening lap with Wolla and R.C. Whitwell in tow.
Wolla powered into the race lead following a lap two while Strand, Whitwell and Casey Arneson fought for second.
Arneson tiptoed around the low side, getting by both Strand and Whitwell. Thornton took passed Strand and Whitwell to take over third on lap 14.
Two laps later, Arneson abandoned the low groove and Thornton capitalized to take the runner-up position. A caution erased Wolla's lead and put Thornton and Arneson on his rear bumper for the restart.
As the race resumed, Thornton easily took the lead from Wolla and led until the mandatory pit stop on lap 21.
Thornton pulled out to a comfortable lead as the race resumed. A restart with 23 to go set up a thrilling battle for the lead between Thornton and Wolla. Wolla pulled even with Thornton using the high side of the speedway.
Thornton's lead was down to a half car length at the flag stand with 20 laps to go. Thornton then went to the high side to protect his lead, which allowed Wolla to cross over and take the inside. Wolla completed a slide job in turns three and four to briefly take the point, but Thornton came back around to lead with 17 to go.
From there, Thornton steadily stretched out his lead in the closing laps as he went on to take the win.
"I had an idea of what kind of lead I had. I could see both my crew guys signaling me. They told me to move up in both corners so I figured guys were coming," said Thornton from victory lane. "I've really got to thank those guys. Without them, I probably would have just stayed around the guardrail and finished second."
"The first year [of the Legendary 50] we didn't change anything so this year I figured I would probably screw myself if I made any adjustments. We just put fuel in it," said Thornton of the mandatory pit stop.
Wolla hung on for second over Hunter Marriott. Arneson and Tim Ward rounded out the top five.
Ten states and Canada were represented in the feature field.
Feature results – 1. Ricky Thornton Jr.; 2. Jason Wolla; 3. Hunter Marriott; 4. Casey Arneson; 5. Tim Ward; 6. R.C. Whitwell; 7. Jeremy Keller; 8. Eddie Belec; 9. Tom Berry Jr. 10. Kelly Shryock; 11. Shawn Strand; 12. Ethan Dotson; 13. Justin O'Brien; 14. Kyle Brown; 15. Mark Dahl 16. Marlyn Seidler; 17. Dylan Goplen; 18. Josh Rogotzke; 19. Myles Tomlinson; 20. Zach Olson; 21. Steven Pfeifer; 22. Marcus Tomlinson; 23. Billy Kendall; 24. Travis Ulmer; 25. Jarrett Carter; 26. Les McLenehan; 27. Cody Peterson; 28. Lance Mari; 29. Drew Christianson; 30. Hank Berry; 31. Alex Stanford; 32. Jeff Taylor; 33. Aaron Turnbull.