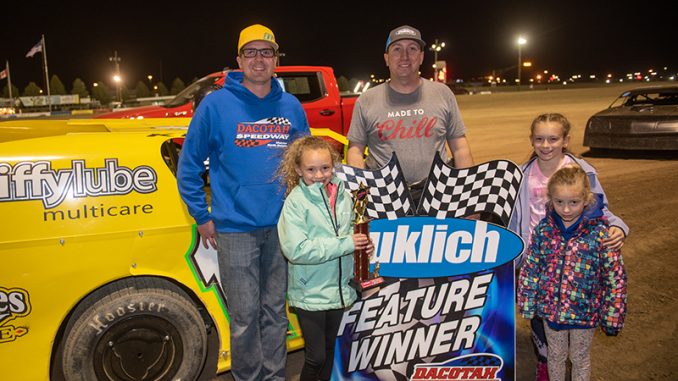 By Becca Pelkey
MANDAN, N.D. (May 6, 2022) – Jeremy Keller led every time around the track in winning Friday's opening night feature for Friesen Performance IMCA Modifieds at Dacotah Speedway.
Shawn Strand and Keller led the field to the green flag for the 25-lap feature. Keller pulled away as Strand tried to hold off Spencer Wilson for second.
A series of mid-race cautions regrouped the field which allowed Travis Hagen to make it a three-car battle for second. They sliced and diced for position on the track as defending track champion Quentin Kinzley lurked in fifth.
Hagen passed Wilson for third and challenged Strand for second but when the checkered flag waved, came up short to second running Strand. Spencer Wilson finished fourth ahead of Kinzley.
Defending track champion Stan Thompson led early in the Mach-1 IMCA Sport Compact feature. Stan's son Alex quickly reeled in his dad and they raced side-by-side for several laps.
The battle up front allowed Ken Sandberg to close and make it a three-car battle. With five laps to go, Sandberg dove low under and drifted into Alex Thompson's car.
It led to a thrilling battle for the win as they leaned on each other for the lead. When the checkered flag waved, Sandberg muscled by Alex Thompson for the victory. Stan Thompson crossed the line in third place while Paul Schuh finished ahead of Nicholas Hoffman.