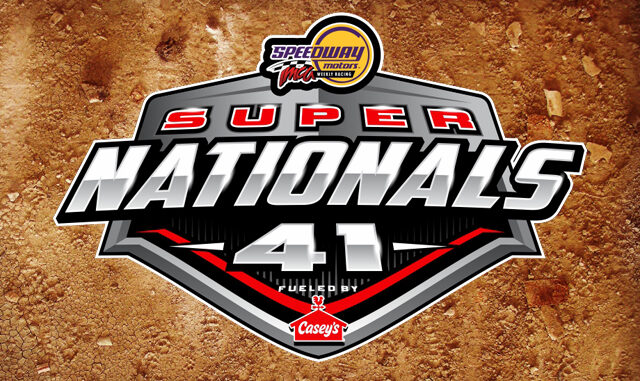 BOONE, Iowa – There's no exact number yet but this is guaranteed: The cars – race cars, not the band – are coming to Boone Speedway.
Nearly 650 drivers from 27 states and three Canadian provinces are already pre-registered for the 41st annual IMCA Speedway Motors Super Nationals fueled by Casey's Sept. 4-9 at Iowa's Action Track, and the goals of every one of those drivers are to win the most prestigious championship in dirt track racing and have a good time while they're doing it.
"The general format for Super Nationals remains the same. We are still working on little tweaks to make sure that from the time racers pull into the pits and park their hauler or fans get their campers situated, to the time they go home that they have a good time," said IMCA President Brett Root.
"Most people come to Super Nationals to have a good time and that's what we want, too," he added. "It's a great week for us and we want every driver and every fan to have the same kind of experience at Boone."
"Super Nationals gives us the opportunity to sort of change the landscape of Boone for a week. We always try to promote IMCA and event sponsors as well as we can and give the speedway a look that's different than during the weekly point season," Root said. "We have very good staffs here at IMCA and at Boone and they make that possible."
While IMCA.TV returns to broadcast both nights of the Sept. 2-3 Prelude and each night of Super Nationals, fans at the track will be able to catch replays and race highlights on two jumbotrons, one in turn four and the other in a location yet to be determined 
Tweaks so far see one Hobby Stock and two Northern SportMod qualifying features on Monday, and two Hobby Stock and one Northern SportMod qualifying feature, along with Stephenville Starter and BSB Manufacturing races of champions on Tuesday.
"We moved the ROCs last year so drivers who don't qualify for their main events don't have to stay another four days or go home and then make a long trip back," Root said. "Last-chance qualifiers remain on Wednesday and add the final six cars to both main event fields."
Complete programs for Mod Lites will be held during the Sept. 2-3 Prelude, with the first champion of the week crowned on Sunday and earning $2,000.
Late Models race for a top prize of $3,000 on Labor Day, Sport Compacts for an increased top check of $1,250 of Tuesday. Both Hobby Stock and SportMod ROC events that night pay $300 to win.
Qualifying gets underway for Modifieds and Stock Cars on Wednesday. Thursday's B & B Racing Chassis All-Star Invitational for the Stock Cars and Friday's Fast Shafts All-Star Invitational for Modifieds both pay $1,000 to win.
The Sunoco Race Fuels Race of Champions for Stock Cars pays $500 to win, the Rage Chassis Race of Champions for Modifieds $1,000 to win on Saturday and precede main events for the Hobby Stocks, Northern SportMods, Stock Cars and Modifieds.
Hobby Stocks race for $3,000 to win, Northern SportMods for $5,000, Stock Cars for $7,500 and Modifieds for $10,000.
Lap money is also at stake in the All-Star Invitationals and each race of champions.
"Super Nationals is a snapshot of IMCA as an association and tech inspection is a reflection of that. There will be no pre-race tech again this year," Root said. "When you look at car counts, pre-race tech had become the focus of the day from 7 a.m. to the first hot lap."
"But most of the drivers who come to Super Nationals are already legal. They race IMCA weekly and for those who don't, it's very unlikely that they are going to sneak their car through their heat."
Modified, Stock Car, Hobby Stock, Northern SportMod, Sport Compact, Late Model and Mod Lite drivers must register online and links to driver registration, pit stall reservations and camping forms are at www.imcasupernationals.com.