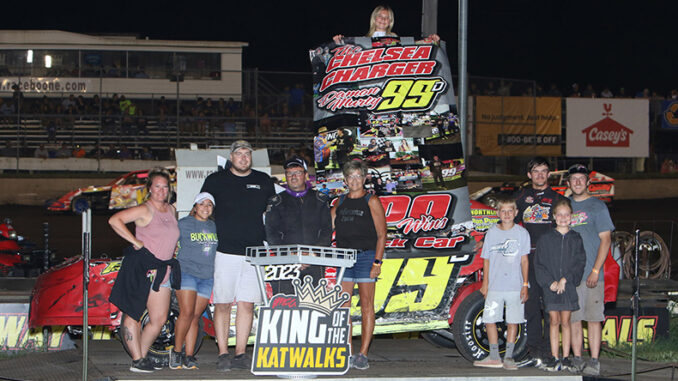 BOONE, Iowa (July 22, 2023) – They unrolled and then they showed off his 300 IMCA Sunoco Stock Car Career Wins banner on Saturday.
And as far as Damon Murty is concerned, there couldn't have been a better night to do it, or at a better track.
Murty's latest milestone win came in the main event of the King of the Katwalks show at Boone Speedway. The Chelsea Charger led the last 22 of 25 laps and simply ran away from the rest of the field after both restarts, taking the $2,500 checkers ahead of son Dallon.
"To do this at Boone is very special. This place is IMCA. This is where the Super Nationals are," said Murty, second on the all-time wins list for the division and now the fifth IMCA driver with 300 career wins.
"My 300th win is something I wanted to get this season and I'm glad I was able to do it at a race with 59 cars," he added. "And I love being able to do it racing with Dallon. It's the greatest thing to run with your son. I have never seen anyone jump in a car at his age and do what he's doing."
One of just seven drivers to win IMCA national championships in multiple divisions, the Hobby Stock in 2000 and Stock Car in 2005, Murty has been winning Stock Car features since 2003, posting double figure wins in 13 seasons since with 24 in 2005 and a career best 25 in 2014.
A 17-time qualifier for the Stock Car main event at the IMCA Speedway Motors Super Nationals fueled by Casey's, Murty won the big dance at Boone in 2018. He was runner-up in 2002, 2008 and 2014.
"You can't compare accomplishments," said Murty, who also lists 47 Hobby Stock and five Northern SportMod victories on his resume. "Super Nationals is a week. A national championship is a season. Three hundred Stock Car wins is a lifetime."
Win number 300, he emphasized, was also especially sweet given the quality and quantity of competition at Iowa's Action Track on Saturday night.
"That says a lot. It says our program is one of the best ones out there," said Murty. "We work night and day on these cars. We've dedicated a lot of our lives, basically to racing, and to IMCA, and we love it."
His King of the Katwalks trophy is one of the most unique and certainly the heaviest he will add to his extensive hardware collection before changing his racing role.
"I'll probably keep racing until Dallon gets a Late Model ride," he said. "Then I can go along and help and watch him."
Murty won his career 100th IMCA Stock Car feature at Hancock County Speedway in Britt on Aug. 12, 2010 and 200th at Benton County Speedway in Vinton on May 30 of 2016.
King of the Katwalks was broadcast by IMCA.TV.