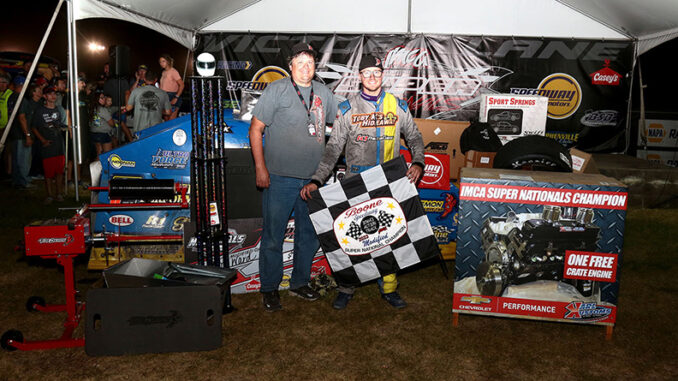 BOONE, Iowa (Sept. 21, 2023) – Money raised in the auction before the auction on the final night of the IMCA Speedway Motors Super Nationals fueled by Casey's goes to a cause close to the heart of Modified champion Tim Ward.
The Tire Demon variable speed tire machine he received as part of the champion's awards sold for $2,800 in bidding that preceded the traditional Super Nationals-ending engine auction.
Tire Demon owner Tim Love matched that amount and Ward chose to donate the total of $5,600 raised to the Hope For Harvey Foundation, to help fund research toward a cure for DLG4, a rare genetic disorder that impairs development in some 60 known case in the United States.
One of those 60 is the namesake of the foundation and three-year-old cousin of Ward's girlfriend Kenze Smith.
"DLG4 is the specific gene that impacts how his body produces a protein and effects his body and development skills," she explains. "Funds raised in the auction at Super Nationals go toward research to improve quality of life."
"Tire Demon has been a sponsor of mine for about five years. Tim offered to match whatever the Tire Demon went for if all the money was donated to a charity of my choice," Ward said. "Right away, I thought of this one."
Love made that offer between post-race photo takes in the NAPA Fan Zone.
"I asked Tim and he said 'Absolutely.' He agreed to sell it and I agreed to match whatever the amount it sold for was," said Love. "Tim represents everyone on his race car so well. It feels good to be able to do something like this, and if we can help even one person, I'm all for it."
Love has previously donated Tire Demon machines for auctions during events at Southern Oklahoma Speedway, where proceeds go to benefit the Jimmy Everest Center for childhood cancer research and treatment in Oklahoma City.