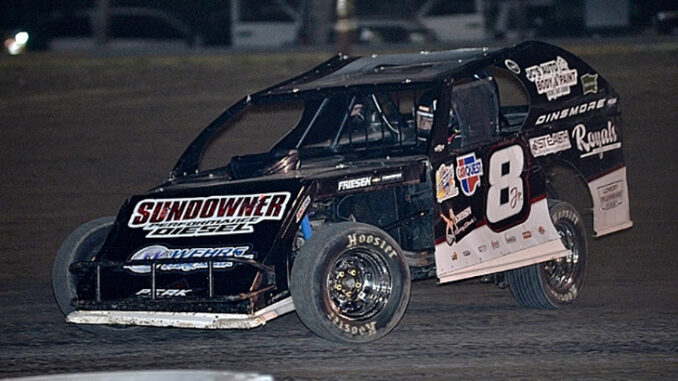 By JM Hallas
PLEASANTON, Texas (June 17, 2023) – Saturday was the time to crown the Friesen Performance IMCA Modified Royal Rumble mini-series, sponsored by Sundowner Performance Diesel, champion at I-37 Speedway.
There had been three different winners in the previous three races, Dillon Tindall, Chris Morris and Ryan Doyon, with Tindall and Tanner Whitmire tied for the lead going into the finale, Logan Dinsmore three points out and Doyon rounding out the top.
The race sailed by, going green to checkers on the blackened off track. Dinsmore drew the pole and took advantage of the starting spot, jumping out front as three-wide for second sorted out to Whitmire, Tindall and Doyon with Landon Bednarz fifth.
Johnny Torres, in a borrowed ride, moved past Bednarz for fifth, then Doyon for fourth.
Coming to halfway it was Dinsmore maintaining his advantage over Whitmire, Tindall, Torres and Doyon. Dinsmore was hitting traffic, but only missed a beat once as the laps waned.
Dinsmore easily took the checkers.
"I'll probably give dad his sponsored money back, or go to Whataburger," joked Dinsmore. "I knew I had to win it to have a chance at the series title. Unless they had problems or made a big mistake I didn't think I was going to be able to get it. I was more focused on the win, I guess."
"I was grinning ear to ear when the track went dry slick. I liked it. Dad texted me about nine or 10 messages in a row on what to do with the car after the heat race. It was basically repeating what we do every week. It finally paid off. I haven't drawn good at all lately either. This was nice to start up front," he said. "A lot of these guys have respect and won't rough you up. I've raced with most of these guys for a couple years now. You give them their space and they'll give you the same."
"I was pretty hyped up and trying to check out of the slower traffic. I thought for sure someone was on my bumper. I can't see behind me with the hybrid I wear. Maybe I stuck my nose in places I shouldn't have a couple times."
"The plan was to bring home the belt for my youngest son Braddox because he is a WWE fanatic." added series champion Whitmire. "I wanted the win, but the belt was more important. I knew I had enough points over (Logan) Dinsmore, so I figured I would just ride to the end hoping for a late caution where I would try to go for it. We went green to checkered and it was too late for me to do anything. Dinsmore was on a rail. I'm happy he ended his two-year dry streak and my son Braddox is even more happy wearing the belt."