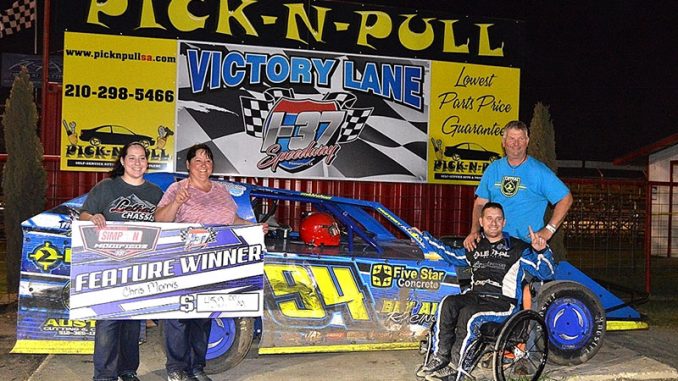 By J.M. Hallas
PLEASANTON, Texas (April 6) – Everyone loves a first-time winner and when that person overcomes a physical challenge, even his competitors show their respect.
Using only hand controls, Chris Morris dominated the IMCA Modified 20-lapper Saturday at I-37 Speedway and grabbed the victory much to the excitement of the crowd. There was hardly a dry eye in the place.
Morris, who started ninth, saw the bottom open up on green and quickly moved up behind leader Jamie Campbell, Bill Pittaway, and defending track champ Rick Green.
He picked off third from Green then got by Pittaway for second. Using the bottom, Morris pulled alongside Campbell on lap three and had the top spot on lap four, bringing Green along to second. From there, he began to stretch out his advantage.
Cody Leonard, who denied Morris his first-ever win in the season opener, was on the charge moving up to fourth. Stretching out his lead to a full straightaway, Morris only had slower traffic to contend with.
Even that didn't deter him as he diced through, increasing his margin to a half track as the white flag waved. With the crowd on its feet, C. Morris crossed the line ahead of Green and Pittaway.
"This new car from David Stremme is incredible," exclaimed Morris. "It's certainly been a game changer in my program. We've been trying so hard and getting close so many times. To finally put it all together definitely made for an emotional night."
"I knew I had to get to the front quick otherwise I'd lose ground on the guys. Holes opened up on the inside where I could go good, so it worked out perfect. We made it to the front in two or three laps and stayed up front from there. It was awesome, I just wanted to keep turning laps until I ran out of fuel."
"That race with Cody on opening night was so fun. I may have come up short in that race, but it was a win in my book. We raced each other clean, it was fun, I had a blast. This race makes up for it. That race and this one are probably the top two races of my career."
"I try to focus on my own race and not look back for who's coming. I just make sure I hit my marks every lap. When I got up on the lappers I knew I just to pick my way through clean. It just all worked out good."
"To hear people like Kris Workman say that I'm an inspiration really humbles me. I'm glad that I can be that for people and show that just because you have a disability things can be done. You can do anything you want. I'm really looking forward to seeing Kris get in his car and get going again."
Feature results – 1. Chris Morris; 2. Rick Green; 3. Bill Pittaway; 4. Cody Leonard; 5. Chris Carroll; 6. Jamie Campbell; 7. Donald Banker; 8. Marcus Mikulencak; 9. Mike Morris; 10. Rob Sanderson; 11. Landon Bednarz; 12. Justin Delgado; 13. Dillon Tindall; 14. Jason Borlace; 15. Chris Jones.