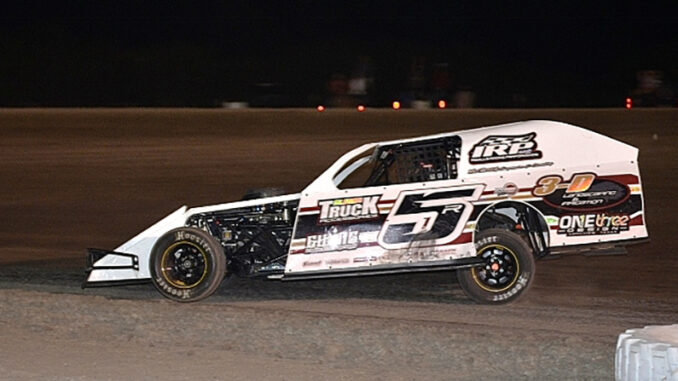 By J.M. Hallas
PLEASANTON, Texas (Sept. 23, 2023) – Ahhhh, fall begins, so it's only in the 90's instead of over 100.
Saturday's Friesen Performance IMCA Modified field took the green for Saturday's Frist Responders Night show at I-37 Speedway with Jared Maupin getting the point pursued by Ryan Doyon, Robert Liese, Greg Dinsmore and Logan Dinsmore.
Doyon pressured Maupin for the lead in turns three and four getting the spot on lap four while Greg Dinsmore got third from Liese. Logan Dinsmore followed a lap later to fourth.
Coming to the midway point, Greg Dinsmore got by Maupin for second and inched closer and got a good run in after Doyon got caught by traffic. Darrell Boyd and Liese ran side-by-side for fifth until a caution that set up a four-lap shootout.
Doyon got off good back under green while Maupin and Logan Dinsmore were side by side for third. Doyon had three car lengths on Greg Dinsmore when taking the checkers.
"I was wondering where Greg (Dinsmore) was. I'm not going to say that I was super slow, but I was just cat-fishing around the bottom waiting for someone to show me their nose," Doyon said post-race. "I never heard or saw anyone. I just tried to stay smooth."
With his third place finish Logan Dinsmore locked up the track championship, his first. The young Dinsmore follows in his father's footsteps, a two-time I-37 Speedway IMCA Modified track champion.