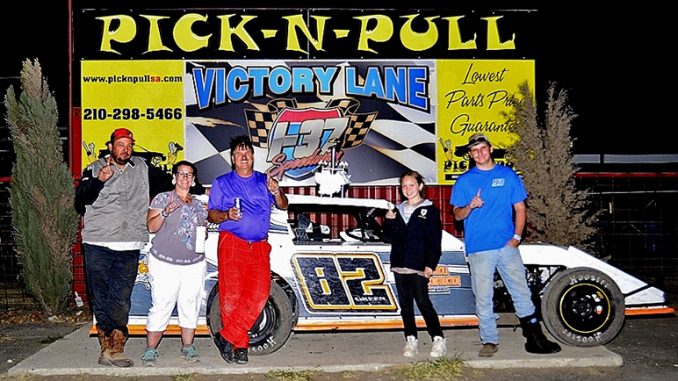 By J.M. Hallas 
PLEASANTON, Texas (April 9, 2022) – After a scheduled week off, it was time for round two of the I-37 Speedway point season and Rick Green raced to his first IMCA Modified feature win of the season in flag-to-flag fashion.
As green waved on the 20-lap main it was Green with a big run into turn one. Four cautions slowed the first half of the contest but the last half was run under green with Jared Maupin looking middle-up on Green in turns one and two and then the bottom in turns three and four. Greg Dinsmore closed in on Maupin looking low as Maupin tried high. This gave Doyon the chance to reel Dinsmore in for the closing laps.
Up front it was the former track champion, Green inching ahead by a couple car lengths to score the victory.
"They let me take the green flag tonight," joked Green. "I actually drove it in a little too hard and saw him (Maupin) get beside me. The car finally bit and once I could hit my lines I was all right. On that track tonight I wasn't worried about someone going around the top. I knew I was messing up in a couple places, but never heard anyone. I did that on a restart and never did it again."