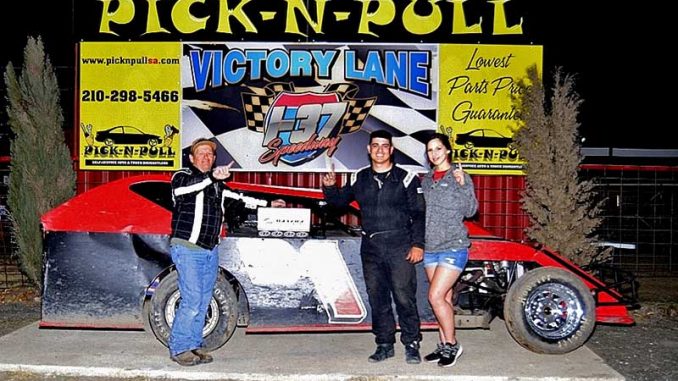 By J.M. Hallas
PLEASANTON, Texas (March 19, 2022) – Spring has (almost) sprung, with the new season only hours away before the green flag waved for the I-37 Speedway season opener on the ¼-mile, semi-banked dirt oval, just south of San Antonio.
As the IMCA Modified 20-lap main fired off it was Jared Maupin off turn two with the lead trailed by Chris Morris, Cameron Starry, Robert Liese and Ryan Doyon in top five.
After a quick spin and caution, Morris began his challenge on Maupin for the lead, throwing everything but the kitchen sink at him. Morris tried diving in low and got alongside Maupin, but Maupin held him off. Another quick spin-caution set up a repeat of Morris trying to stick the nose inside Maupin on the restart, to no avail.
After a lap 16 restart, the top three broke away quickly back under green with Morris still trying to dive in under Maupin. Morris got his best chance on lap 18 getting door to door with Maupin on the back stretch, but Maupin ran his line to hold him back.
Morris tried to sail it across the bottom in 3-4 on the final lap, but it was Maupin in the Skip and Cheryl Gray owned, Grays Recycling, crate powered, Kraft Chassis hanging on for the victory.
"I felt him (Morris) back there a few times," said Maupin. "It was pushing me. I just told myself, 'don't mess up.' What scared me was in turns 1-2 when he'd peek inside me. I didn't know if I needed to change lanes and what I'm doing. I just held on, trying not to spin my tires and took the victory."
"I know his stuff is good. It looked like he was really fast in the heat race. We were terrible. We went back and threw everything at it. It just panned out."