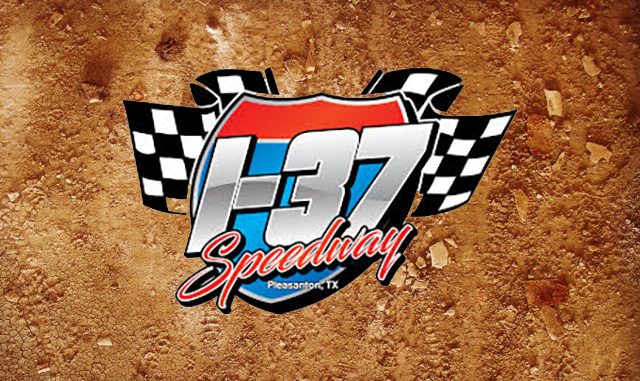 By J.M. Hallas 
PLEASANTON, Texas (July 31) – Saturday was I-37 Speedway's annual Back to School Night with the track and Team Dinsmore handing out school supplies to kids in need that attended.
A lucky 13 IMCA Modifieds took the green with Rick Green grabbing the point off turn two pursued by Marcus Mikulencak, Logan Dinsmore and Craig Oakes.
After a series of cautions, it was Green getting a slight advantage while Mikulencak and Jared Maupin battled for second and Oakes quickly working forward getting past Cameron Starry and McSpadden for fifth. JP Dowell had a good run going taking third from Maupin before pulling off just before halfway.
Oakes was able to snag third from Mikulencak while Dinsmore and McSpadden were side-by-side for fifth. Up front, Green was easing away while Oakes and Maupin battled for second. A late caution for Mikulencak stopped on the back stretch erased his lead.
On green, Green got away but Maupin gave him a look low coming off turn four to the white flag. Green was able to hold off the challenge to score the victory.
"It was a lot of fun tonight," said Green. "I finally went back to a lot of old school set up stuff. I was pretty happy. All I tried to do was tell myself to hit my marks. Jared (Maupin) told me I was beating him in (to the corner), killing him off and he could only close in the center."
"I knew those guys were going to push hard. That's one reason I'd enter (the corners) the way I did," he added. "I entered harder than I've been doing it and the car just hooked up phenomenal off the corners. I was pretty sure it was going to take something special to get around me."