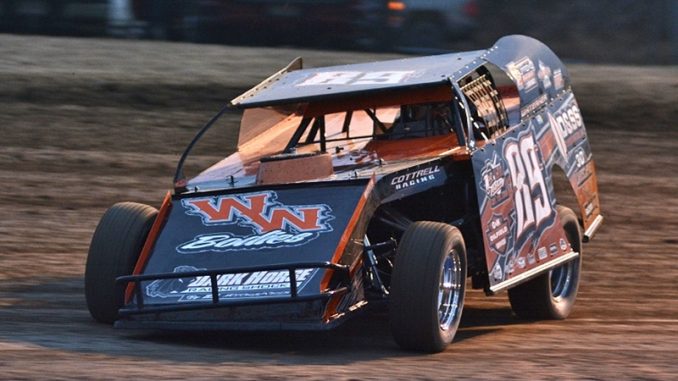 By J.M. Hallas
PLEASANTON, Texas (Feb. 27) Oh, the irony of the show title.
After suffering through a week of weather better suited for the Arctic, it was time for the roar of race engines as I-37 Speedway kicked off the 2021 season with its Frostbuster Saturday night after an open practice on Friday.
With north Texas tracks suffering rain outs to their opening weekend shows, some drivers took the opportunity to travel south, or further south as was the case for several out of state teams. The track was also able to add the IMCA Sunoco Stock Cars to the night's slate running for IMCA Speedway Motors Weekly Racing national, EQ Cylinder Heads Southern Region and KMJ Performance State points.
Debuting a new car can be tough sometimes getting all the bugs worked out but Steve Whiteaker Jr. proved that wrong, taking home the IMCA Modified 20-lap feature win on its maiden voyage.
Danny Patterson was first to turn one but it was former track champion Rick Green going around him to lead lap one. Robby Minten, Patterson, Chris Morris and Mark Patterson fell in line behind the leader. Green was quickly challenged by Minten who led lap two.
Morris got third while Whiteaker powered past both Pattersons to take fourth. Minten saw his good lead erased when a spin by a caution on lap six. Morris used the restart to get by Green for second.
Morris turned up the heat on Minten for the lead with the duo going wheel to wheel for three laps before he inched ahead at the line. Morris' lead was brief as he slipped, making slight contact with Minten and allowing Whiteaker to go past both for the top spot.
Whiteaker took command, pulling away to win ahead of Morris and Green.
For the first time in over 10 years, IMCA Stock Cars took the track for their 20-lap feature with Jason Batt and Doug Lorenz on the front row. Lorenz was first into turn one with Batt, Shelby Williams and Ron Palmer in pursuit.
Williams then put the heat on Batt for second with Dean Abbey picking up fourth from Palmer. At halfway it was still Lorenz on point. Williams then completed the pass for second and showed Lorenz the nose.
Lorenz and Williams ran door to door while Abbey, making a late charge, took third from Batt. Williams finally wrestled the lead away from Lorenz on lap 16 with Abbey coming along to second. Abbey was hanging on Williams bumper with two to go and gave Williams a run up top on the final lap but it was Williams holding him off for the victory.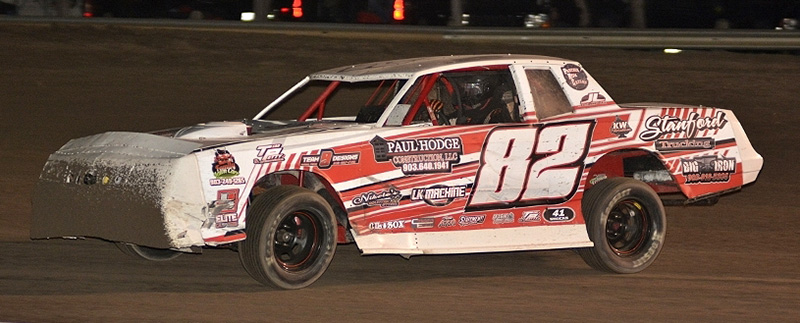 Shelby Williams scored the Saturday IMCA Sunoco Stock Car win at I-37 Speedway.
"It feels good to know you can take a home built (older) car and compete with some of the best in the business," said Williams. "I had to work my butt off for this! Dean(Abbey) was right there with me, I didn't get the lead 'til about 6-7 laps to go, super fast track and fun!" 
"Sniper Speed and Dean Abbey are some of the best in drivers and chassis, and to be able to even be competitive with a brand new car with the best of the best and very talented driver says a lot for our two-man operation. We have lots of help here and there but 90 percent of the time it's me and dad and my brother, if he's off work."
"I'm thankful for my family and Tony Hernandez in my racing career. He helped me develop into the driver I am today. Both sides of my family race, and I was at the races when I was just weeks old, it's all I know," he continued. "Thank you Johnny Torres, Joe Spillman and the rest that made it possible for the I-Stocks to get to race this weekend."