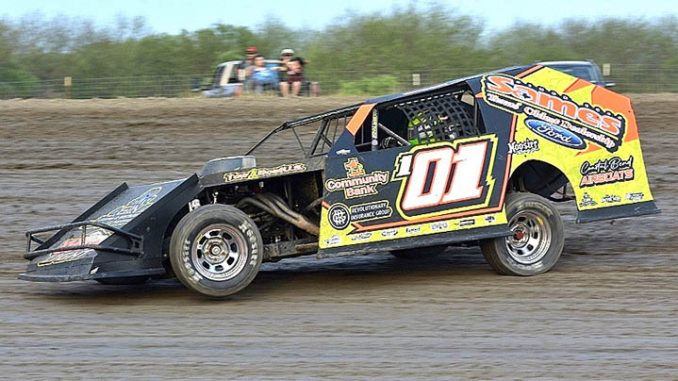 By J.M. Hallas
PLEASANTON, Texas (April 30, 2022) – After a two week hiatus, it was time to fire up the engines on the ¼ mile semi-banked I-37 Speedway dirt oval Saturday and Tanner Whitmire was back in victory lane after a lengthy hiatus of his own.
At the start of the 20-lap Friesen Performance IMCA Modified main it was Rick Green with the lead chased by Jared Maupin, Whitmire, Ryan Doyon and Chris Morris. Robert Liese spun to infield and collected Marlin Samford as he tried to pull back on track. On the restart, Maupin tried the high side on Green with Whitmire looking to go three-wide for the lead.
Whitmire took second and began to look low on Green while Morris got by Maupin for third. Whitmire then tried the high side on Green and got a good run down the back stretch, taking the point on lap nine. At the crossed flags it was Whitmire, Green, Morris, Maupin and Jamie Campbell in the top five.
As Green tried to make the bottom work, Morris closed in for second. While Green and Morris battled, Whitmire was able to slowly creep away. Morris was able to get second from Green with three to go. Whitmire had about an eight-car length advantage on Morris as he scored the victory.
"It's been a while since I've been up here," said Whitmire. "I think the last time I was here we rained out and I was worried I was bringing the rain again tonight."
"I stuck my nose down low and knew Green saw me and he started to change his line up a little bit. I knew I was going to have move him or change my line, and I don't drive like that," he continued. "So I changed my line to the top and hoped to make it work in (turns) 1-2. I was able to keep the momentum up and go around on the outside."
"I've been out of Modifieds for 15 years or so and it's my fifth race back into it. We won one a couple weeks ago and had a couple seconds. To be able to come out tonight and with a stout field definitely feels good. I picked up this car in January, Zane (DeVilbiss) has been top notch in help. I wouldn't be here in victory lane without him."