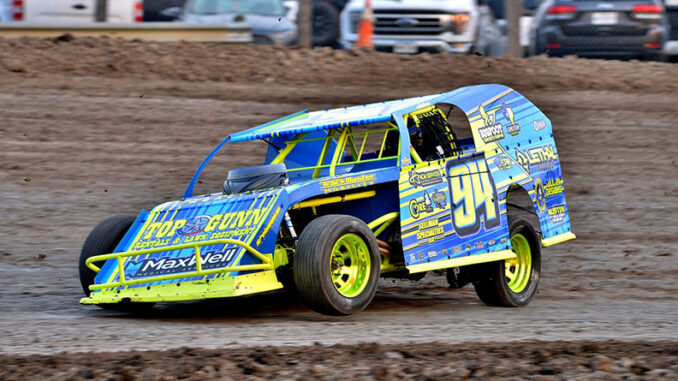 By JM Hallas
PLEASANTON, Texas (May 6, 2023) – The first round of I-37 Speedway Royal Rumble ended with heartbreak for Chris Morris.
Round two on Saturday was his night for atonement.
Two weeks ago, the Friesen Performance IMCA Modified main had a thrilling finish with a last-lap pass for the win by Dillon Tindall. After a late restart Tindall took advantage of a rare mistake by Morris in turn three when he pushed up too high, allowing Tindall to dive low and take the top spot coming to the white flag and then hanging on to the checkers.
Round two at Pleasanton saw 17 cars roar to life with Tanner Whitmire taking the point ahead of Morris, Mark Carrell, Tindall and Chris Carroll. Tindall snuck past Carrell for third and closed on Morris, who slid high in turns three and four. An infield tire slowed the pace for a lap five yellow.
On the restart, Tindall got by Morris for second while Logan Dinsmore, Jared Maupin and Hardy Henderson went three-wide for sixth. That fight continued for two laps before Henderson finally secured the spot. Coming to the crossed flags it was Whitmire, Tindall, Morris, Carrell and Carroll in the top five.
Henderson caught Carroll for fifth getting alongside him on lap 13 with Dinsmore looking to go three wide again. That battle ended on lap 14 when Henderson caught the front stretch wall ending his night. Once back to green, Morris found another line getting by Tindall for second and on Whitmire for the lead.
Whitmire and Morris were wheel to wheel on lap 15 with Morris getting the advantage on lap 16. Morris looked to be on his way to the finish line when Maupin slowed and tried to pull off high in turn four to bring out a caution setting up a green, white, checker finish.
Morris didn't make the same mistake as two weeks ago and got away from Whitmire for the $1,000 win and Fast Shafts All-Star Invitational qualifying eligibility.
"It was heart breaking last race here," said Morris. "The track kind of owed us one. We had such a big lead before that last caution. I just caught a hole wrong and pushed up the track. It was definitely nice to get this one after that one got away from us."
"I didn't have anything for Tanner until the second to last caution," he continued. "We kind of got the top rolled in so I went up there and got it rolling good. I got by Tanner and we had that caution just like last race. I knew I just needed to hit my line right and not mess up and we'd be all right."