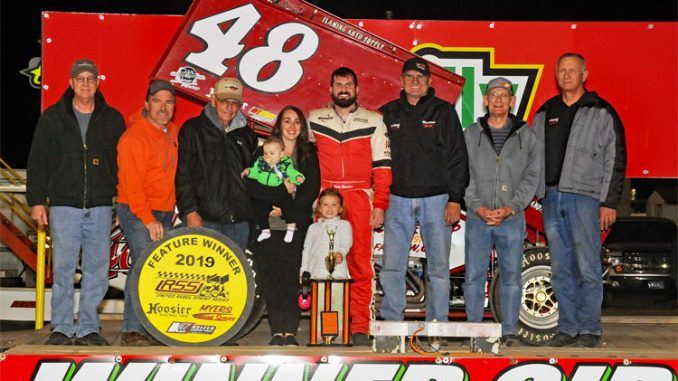 PARK CITY, Kan. (April 5) – After taking the lead on lap five, Jake Martens never looked back to capture the season opener for the Lucas Oil POWRi United Rebel Sprint Series presented by Mel Hambelton Ford Racing Friday at 81 Speedway.
Buddy Tubbs and Andy Shouse started on the front row for the 25-lap IMCA RaceSaver Sprint Car feature with Tubbs taking the lead as the green flag fell. Tubbs' lead would be short lived, however, as he would bring out the features first caution when he spun in turn two.
Shouse and Adam Guillion swapped the lead back and forth as Martens pulled closer. Entering turns three and four after another early restart, Martens dived low in turns three and four to take the lead and set sail away from the field.
By lap eight, Martens had opened up a half-stretch lead over Guillion and kept the distance until the features final caution flag fell on lap 14.
On the final restart, there was no stopping Martens as not even encountering slower cars on lap 20 could deny the Oklahoma veteran from claiming the URSS season opener and finally capture a feature victory atop 81 Speedway after years of trying.
Guillion settled for second while Shouse came home third. Wayne Johnson earned the Keizer Wheels hard charger award by advancing 10 positions.
Feature results – 1. Jake Martens; 2. Adam Guillion; 3. Andy Shouse; 4. Ty Williams; 5. Wayne Johnson; 6. Tracey Hill; 7. Brandon Anderson; 8. Zach Blurton; 9. Steven Richardson; 10. Tanner Conn; 11. Jed Werner; 12. Kade Hagans; 13; Cale Cozad; 14. Brian Herbert; 15. Aaron Plous­sard; 16. Dalton Webb; 17. Kirby Kyles; 18. Cody Hays; 19. Jeremy Huish; 20. Jordan Knight; 21. Cody Lampe; 22. Buddy Tubbs.