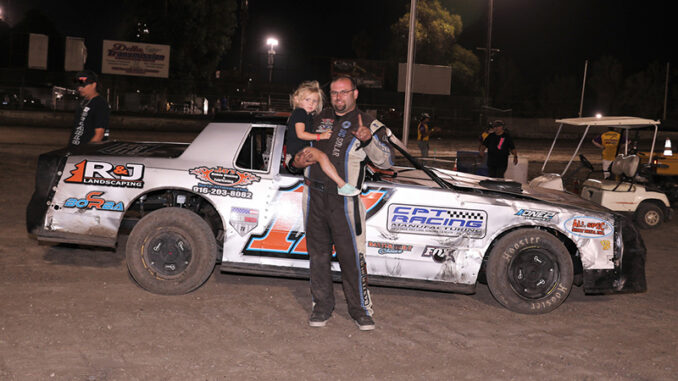 By Candice Martin 
ANTIOCH, Calif. (Sept. 15, 2023) – Troy Foulger won the 25-lap Friesen Performance IMCA Modified feature Friday night at Antioch Speedway. The win in the Bowers Motorsports-owned entry clinched Foulger his third IMCA Modified track championship. This was also his fifth win of the season.
Andrew Pearce bolted into the lead from the outside position ahead of Foulger and Anthony Slaney. Foulger pressured Pearce during the first half of the race with Slaney a solid third until he headed pit side on the 14th lap. Foulger made a move around Pearce on the backstretch on lap 17 to briefly gain the lead, but Pearce beat him back to the line to lead that lap.
However, Foulger made a high pass in turn two on the 18th lap to take command. When Buddy Kniss fell out of third on lap 20, that briefly gave the position to Terry DeCarlo Sr. before Tim Balding made a move in turn four to grab third.
Foulger built a half-straightaway advantage over Pearce by the time the checkered flag waved. Balding ended up third ahead of DeCarlo and Ryan DeForest.
Nick DeCarlo won the 25-lap IMCA Sunoco Stock Car main. This was the third win of the season for DeCarlo, and it came on a night in which his father was inducted into the Antioch Speedway Hall of Fame. DeCarlo gained the lead when soon to be crowned champion Troy Foulger had mechanical issues and fell out of the action.
Foulger took the early lead ahead of Jason Robles. DeCarlo made an inside pass in turn two of the second lap to claim third and moved past Robles for second on the seventh lap. Foulger seemed in control of things until he suffered a mechanical failure and spun for a lap 12 yellow flag.
DeCarlo gained the lead on the restart ahead of Mitch Machado. Travis Dutra ran in the third position, but Enos had his own issues on the 17th lap for a yellow flag. DeCarlo continued to lead Dutra and Robles on the restart. DeCarlo drove a flawless race down the stretch and achieved victory. Dutra settled for second ahead of Robles, Machado and Dave Hill.