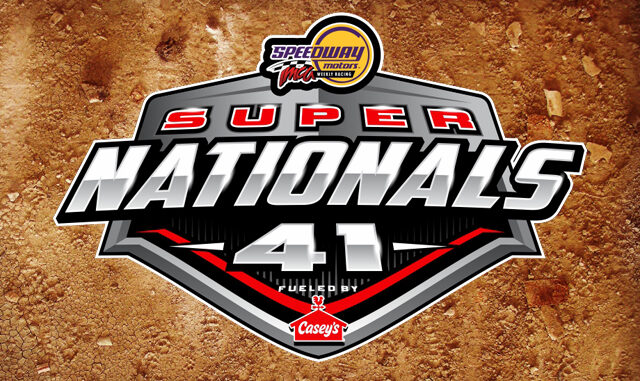 BOONE, Iowa (Aug. 30, 2023) – Chandler Fullenkamp and Chuck Ledbetter have assured themselves places in event history nearly a week before the start of the IMCA Speedway Motors Super Nationals fueled by Casey's.
Fullenkamp, a Sport Compact driver from West Point, Iowa, became the 1,000th driver to pre-register for the 41st annual Super Nationals, slated Sept. 4-9 at Boone Speedway. Minutes later Tuesday afternoon, Hobby Stock driver Chuck Ledbetter of Loomis, Neb., became the record-breaking 1,005th to do so.
A record 1,000 drivers competed at Super Nationals in 2022; 1,004, another all-time Super Nationals best, had pre-entered.
Thirty states, another record, and three Canadian provinces are represented by Boone Bound drivers and pre-entries had reached 1,022 as of 9 a.m. Wednesday.
"Super Nationals continues to be a snapshot of our weekly racing program and reflects the strength of these weekly divisions across the country," said IMCA President Brett Root.
"We are working very hard to host the best possible event for IMCA drivers," he continued. "A lot of different things over the course of the season lead up to Super Nationals. This is not some flash-in-the-pan event. It has 41 years of history and just gets better and better every year."
Divisions with record pre-entries are the Stock Cars with 265, Hobby Stocks with 165, Sport Compacts with 89, Mod Lites with 75 and Late Models, which typically do not pre-register, at 20. Modified entries are at 240, Northern SportMod entries at 168.
Modifieds will race for $10,000 to win their main event at Boone, Stock Cars $8,000, Northern SportMods $5,000, Hobby Stocks and Late Models both for $3,000, Mod Lites for $2,000 and Sport Compacts for $1,250.
Complete programs for Mod Lites will be held Sept. 2 and 3 during the Wild Rose Casino Double Down Prelude, with the first champion of the week crowned on Sunday.
Late Models headline the Labor Day card, along with the first day of Hobby Stock and SportMod qualifying. Sport Compacts run Tuesday along with Hobby Stock and SportMod races of champions
Modifieds and Stock Cars begin qualifying on Sept. 6. The B & B Racing Chassis All-Star Invitational for Stock Cars is Thursday, the Fast Shafts All-Star Invitational on Friday.
Championship features and races of champions for the Hobby Stocks, Northern SportMods, Stock Cars and Modifieds are on Saturday, Sept. 9.
A total purse of more than $300,000 will be paid and more than $60,000 in contingencies awarded at the upcoming Super Nationals.
IMCA.TV broadcasts both nights of the Double Down Prelude and each night of Super Nationals. Information about each viewing package is available at www.imca.tv.