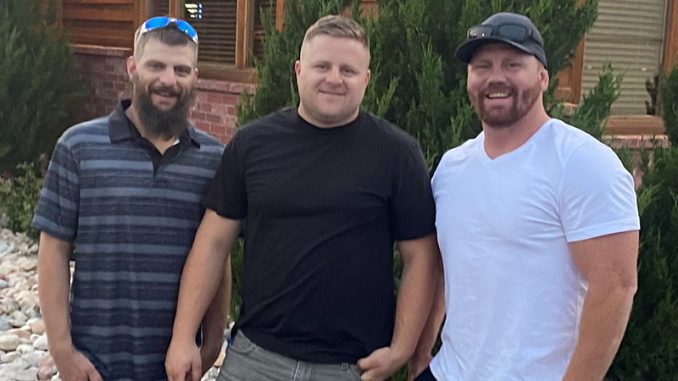 SANDY, Utah – The next great adventure in what's already been a great season takes Dillion Lawrence to the IMCA Speedway Motors Super Nationals fueled by Casey's.
The 39th annual running of America's Racin' Vacation will do double duty as a Utah Boys' Trip for Lawrence and IMCA Sunoco Stock Car cohorts Levi Card and Beau Hutchison.
"When registration opened, my wife Sonja told me to just do it. She's the one who encouraged me and we're excited to go. Five minutes after I registered I got a call from IMCA asking me if I had any questions about Super Nationals and that was pretty cool to me," said Lawrence, from Sandy. "I talked Levi and Beau into coming with me. We're taking a stacker trailer and making it a Utah Boys' Trip."
Already eligible to qualify for the B & B Chassis All-Star Invitational, Lawrence has his eye on making the Sunoco Race Fuels Race of Champions and Saturday night main event grids as well.
"I can't wait to go. Boone is a track we want to race and Super Nationals is an event we want to run," said Lawrence, who has gotten gear and setup advice for Boone from the likes of Dallon Murty and Zane DeVilbiss. "My goal is to make the show. The competition is extremely good at Super Nationals and we want to see how we stack up with the big names."
"It's great to be able to race with these guys and see how we stack up with them. It will be like racing with the Earnhardts and Pettys of IMCA," he continued. "If I can learn anything from them, that's great, but I'm always looking to win and hopefully the cards work out in our favor."
Now in his fifth IMCA season, Lawrence has already matched his career-best six feature win total from last year.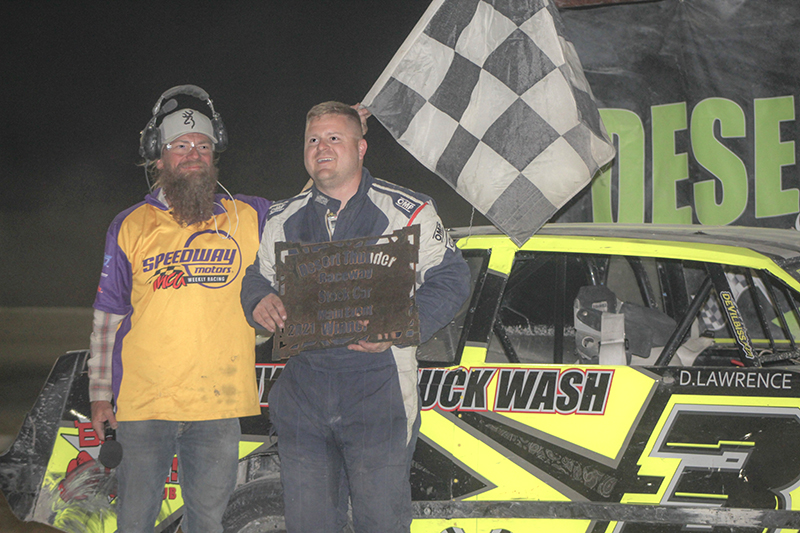 Dillion Lawrence is joined in victory lane following a recent IMCA Sunoco Stock Car feature win at Desert Thunder Raceway by promoter Shane Weybright. (Photo by The Ellyson Image)
He'd followed his father into the sport, racking up a ton of Modified wins on asphalt before racing a Camaro and ultimately an IMCA Stock Car on dirt.
"Racing is in my blood," he explained. "I started when I was 16, the first year I could get in a car, and have raced 15 straight years since. That's something I'm proud of and I wouldn't have a lot of the friends I have now if I hadn't raced all those years."
Lawrence is balancing his focus on winning at KMJ Performance State and Desert Thunder Raceway track titles while looking to become the first Utah driver to take the green flag in Stock Car RoC and Saturday night main events at Super Nationals.
"I like the fact that the rules for this division are so tight that we're all competitive," he said. "You can take a used chassis and win. You can take a home built chassis and win. You can take a brand chassis and win. Plus, the atmosphere is great and you get to race with your friends."