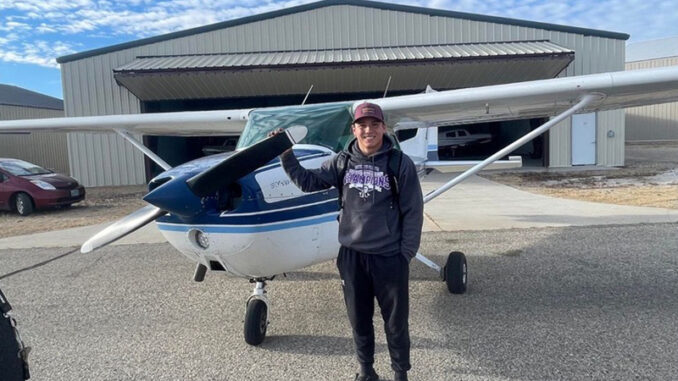 BOTTINEAU, N.D. – His fascination with buttons and gauges and all things mechanical first took Gabriel Deschamp to the dirt track.
Then it took him to the skies.
The 19-year-old from Bottineau got his private pilot's license this summer and has already begun studies toward a degree in commercial aviation at the University of North Dakota in Grand Forks.
He'll drive, or maybe fly, home on the weekends to continue quests for Friesen Performance IMCA Northern SportMod track titles at hometown Thunder Mountain Speedway and at Nodak Speedway in Minot.
"Ever since I was younger, I liked buttons and gauges, and race cars and planes both have a lot of them," explained Deschamp. "It's just something I've always been interested in, and one of the things I like best about flying is the freedom. You can get to other places quickly and easily. And it's pretty cool when you're in control of where you're going."
He'd built and flown his own balsa wood radio controlled planes before following his grandfather and father Beau – now an IMCA Sunoco Hobby Stock driver – into the cockpit, a process that began with working with a local instructor to learn the basics before logging a dozen hours of flight time.
Deschamp soloed in a four-seat Cessna 172 Skyhawk, a single-engine plane frequently used to train new pilots, before passing a lengthy written exam.
Another 40 flight hours, a check ride and then a question and answer exam preceded a final test while airborne.
"What that involved was flying to a different airport than I'd been to before, doing certain maneuvers and more questions and answers from my instructor," said Deschamp, who'd over achieved with 70 pre-test hours in the air. "I did pretty good."
He's done pretty good in his third Northern SportMod season, too. The defending track champion at Thunder Mountain already owns the Tougher Than Dirt title and nine feature wins, while logging a handful of starts in an IMCA Sunoco Stock Car.
"I really like the Northern SportMods. I like throwing the car in the corner, running the top and getting momentum on the high side," said Deschamp, a first-time winner at both Nodak and Estevan Motor Speedway this season. "My benchmark has always been to win at Minot. Last year we got close and this year we got it done."
"We worked really hard over the winter and we look over the car after every race to prevent the things that take you out of races," he continued. "I worked on this car every night after school. I know the car and I'm confident, and that's translated to wins and consistency."
When he's not on the track or in the air in his free time, you might find Deschamp on skis. He's performed with the Club de Nautique Water Skiing Club for seven years and is equally accomplished on downhill.