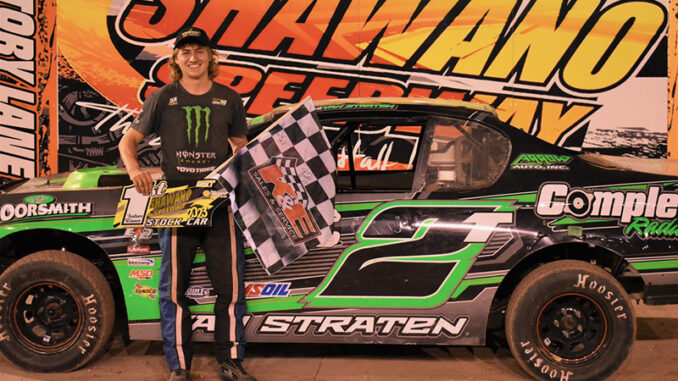 SHAWANO, Wis. (Aug. 12, 2023) – On a beautiful August evening Saturday, Mother Nature allowed Shawano Speedway to host the first annual Retro Night. Several teams put together a few throwback schemes from yesteryear and oh did it bring back a lot of emotional memories of the cars and stars that once raced at the legendary half mile. 
In the Friesen Performance IMCA Northern SportMod feature, pole sitter and former limited late model champion Dave Lytie and Andrew Engels, who had his dad's no. 33 on the side of his usual no. 29 machine, set the pace for what would become a caution-plagued feature.
Taylor Sorenson used his fourth place starting spot to jump out to an early lead. Michael Springborn was on the move to contest for a bid for the win as well. The hot shoes of Tyler Sobiesczyk and Jeffery Teske found their way to the front.
As Sobiesczyk grabbed the lead the top four of Sobiesczyk, Teske, J.J. Vanderloop and Bryce Clements started to break away from field. As the laps ticked away, Sobiesczyk and Teske found themselves battling lap traffic. As the checkers flew Sobiesczyk picked up his seventh feature win of the year.
In the IMCA Sunoco Stock Cars, Kurt Olson and Trey Van Straten set the pace for the 20-lap main event.
Olson got out to an early lead followed by Travis Welch. As that battle continued, Van Straten ran down the front pair, eventually passing both for the lead.
Once out front Van Straten and Welch battled back and forth for several laps with Dylan Stedjee and last week's winner Jeremy Christians starting to catch the front two. Trent Nolan was up to a hard charging fifth.
By the time the checkers flew it was Van Straten picking up his first feature win in an IMCA Stock Car.
Friesen Performance IMCA Modifieds provided an amazing show as always.
Paul Thorpe and Jerry Muenster led the field to green. On lap two, Marcus Yarie put his Banshee Chassis out front and started to pull away.
A caution on lap six bunched the field up and Muenster, Jerry Wilinski, Konnor Wilinski, Jordan Bartz, Johnny Whitman and Mike Schmidt all got as good as chance of any to claim the victory.
Yarie and Whitman battled with Whitman eventually making the pass for the lead, as the rest of fellow competitors swapped positions as the closing lap was getting close. Jerry Wilinski would close the gap but Whitman would hold off the charge and claim the win.