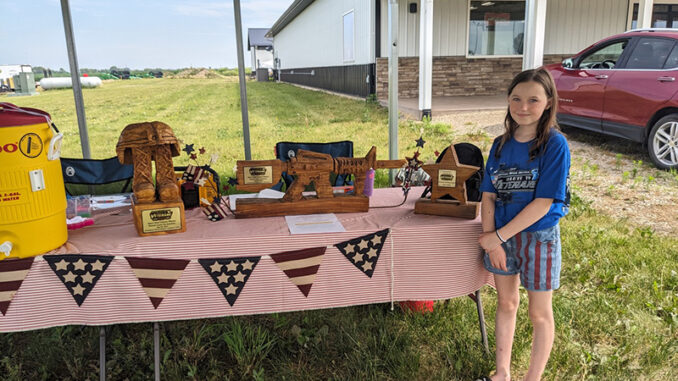 ALGONA, Iowa – IMCA fans and drivers will stand and applaud hundreds of the men and women who have served their country in the armed forces, during Hunting With Heroes Salute to Veterans race programs next week in Spencer, Algona and Boone.
Another one of the people who will deserve a big salute is Toryn Kleen.
The 10-year-old and fifth grader-to-be at Algona Middle School raised $3,206 to contribute to the annual veterans' endeavor, selling lemonade along with cookies and cupcakes at a stand set up near Mike Hauan's Lake Mills Motorsports Polaris dealership in Algona.
"I feel like veterans are under appreciated," said Toryn, whose grandfathers and a great-grandfather all served in uniform. "This is something I can do for them."
Toryn had donated the more than $2,300 she made selling lemonade and sweet treats from a stand at her home and was recognized with a special Top Gun Fund Raiser award last year.
She made the move to the new location this year to up her visibility and along with veterans and folks with a taste for lemonade, her customers included many of the motorcyclists in town for the pre-July 4th ABATE Freedom Rally.
Her mom Skye, along with grandmothers June Satern and Cary Randall, grandfather Mike Weinztl, Micky Mehsikomer, Mariah Sikora, Julie and Larry Armstrong, Alia Clement, Tony Hess and Chelsea Southwick all helped make and sell lemonade and treats.
"Next year, I'm going to beat my goal and raise more money than I did this year," promised Toryn, a big fan of Algona 2022 Salute to Veterans feature winner Colby Fett, who plans to have her Lake Mills lemonade stand up and running for four days in 2024.
Friesen Performance IMCA Modifieds, IMCA Sunoco Stock Cars, IMCA Sunoco Hobby Stocks and Friesen Performance IMCA Northern SportMods run at each Salute to Veterans show July 26 at Clay County Fair Speedway in Spencer, at Kossuth County Speedway in Toryn's hometown of Algona on July 27 and at Boone Speedway on July 29.