By Brian Neal
DONNELLSON, Iowa (June 23, 2023) –  Dennis Woodworth won the headline race and Nicholas Profeta won for the first time Friday at Lee County Speedway.
The 25-lap Iowa Corn Growers Association Drive For 5 IMCA Sunoco Late Model feature took the green flag with Woodworth and Nick Marolf on the front row. Woodworth edged Marolf to lead lap one over Tommy Elston.
While Woodworth worked the bottom of the track, Marolf work the top and used the momentum off the top of turn four to edge ahead on Woodworth on lap four.
Marolf pulled away from Woodworth before encountering lapped traffic on lap 12. This allowed Woodworth to close back in. Woodworth used lapped traffic to slip back by Marolf for the top spot on lap 16, only to have Marolf get the lead back on the next lap.
When Marolf tried the top to get by another lapped car on lap 22, it allowed Woodworth to shoot by for the top spot. Woodworth then held off Marolf over the final laps to claim his first win of the season at the track, which was worth $1,000. Elston was third and Jeff Guengerich was fourth with Jason Oenning rounding out the top five.
Trayton Buckallew and Cole Gillenwater led the field to green in the 18-lap Friesen Performance IMCA Northern SportMod feature, with Gillenwater leading early ahead of Buckallew and Profeta.
On lap three, Profeta and eighth starting Brandon Dale overtook Buckallew for second and third, respectively, and then went to work on Gillenwater for the top spot.
Gillenwater got too high coming off turn two on lap nine, which allowed Profeta to slip by for the lead and Dale to follow him into the runner-up spot. One lap later, Logan Anderson and Adam Birck both got around Gillenwater to move into third and fourth and went to work on cutting into Profeta's lead.
Lapped traffic with two laps to go allowed Anderson and Birck to join Dale in challenging Profeta for the win. Profeta held off a last-lap challenge from Dale to earn his first career feature win.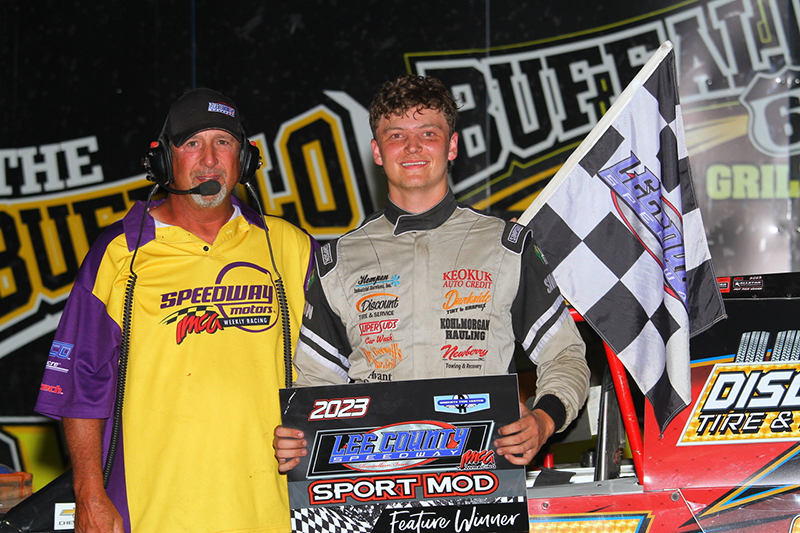 Nicholas Profeta scored his first career Friesen Performance IMCA Northern SportMod feature win on Friday, June 23 at Lee County Speedway. He is joined by promoter Brian Gaylord in victory lane. (Photo by MF Photography)
Other first-time feature winners this season at Donnellson were Mark Burgtorf in the Friesen Performance IMCA Modifieds and Josh Barnes in the Mach-1 IMCA Sport Compacts.
John Oliver Jr.'s IMCA Sunoco Stock Car checkers were his third of 2023 at Lee County.
IMCA Speedway Motors Weekly Racing will resume at Donnellson on Friday, July 14 for Kohlmorgan Hauling Fan Appreciation Night.