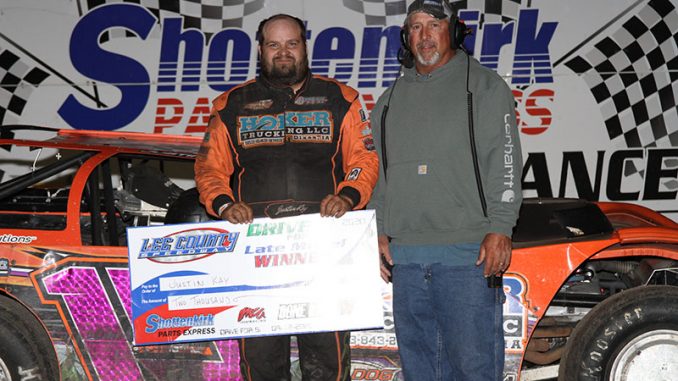 By Brian Neal
DONNELLSON, Iowa (Sept. 19) – Justin Kay made his way to victory lane to claim a $2,000 top prize following the final installment of Pepsi Lee County Speedway's Shottenkirk Parts Ex­press Drive For 5.
After two rounds of heat races, Matt Ryan and Andy Eckrich accumulated the most passing points to lead the feature field to the drop of the green flag.
Ryan jumped into the lead over Eckrich and Darin Duffy. While Ryan paced the field out front, Eckrich, Andy Nezworski, Kay and Tommy Elston, who started ninth, swapped positions second through fifth over the next 10 laps. 
Action was slowed by back-to-back yellows on lap 10. The second restart saw Ryan charge back out front with Kay moving into the runner-up spot over Nezworski. After 25 laps were scored com­plete, the race was halted and teams could make adjustments on their cars during a 10 minute stop.
Once back to green, Elston used the middle to top groove to pass Ryan coming out of turn four to take over the lead. Elston held off Ryan over the next eight laps, before Ryan got under him to regain the lead on lap 35.
Two laps later, Kay slipped under Elston for second as Ryan started to enter lapped traffic. Kay tried to work under Ryan over the next nine laps but Ryan held him off at the line each time. 
That was until lap 47, when Kay was able to get under Ryan to grab the top spot. Kay then pulled away over the final laps to pick up the win. Ryan settled for second, Elston was third, Nezworski was fourth with Mark Burgtorf rounding out the top five.
Twelve drivers went into the night with a shot at a $5,000 Drive For 5 payday. The finale was post­poned a week because of inclement weather.
Drive For 5 was presented by Ideal Ready Mix, Floyd's Waste Systems, J.J. Nichting Company Case IH, Woodworth Attorney at Law, Triple Seven Trucking, Triple R Performance Engines, KQ92 and Big Country 103.1.
Feature results – 1. Justin Kay; 2. Matt Ryan; 3. Tommy Elston; 4. Andy Nezworski; 5. Mark Burgtorf; 6. Andy Eckrich; 7. Nick Marolf; 8. Gary Webb; 9. Dennis Woodworth; 10. Joel Calla­han; 11. Sam Halstead; 12. Matt Strassheim; 13. Darren Mish; 14. C.J. Horn; 15. Ray Raker; 16. Darin Weisinger Jr.; 17. Chris Richard; 18. Darin Duffy; 19. Jill George; 20. Dustin Griffin; 21. Frank Mason.