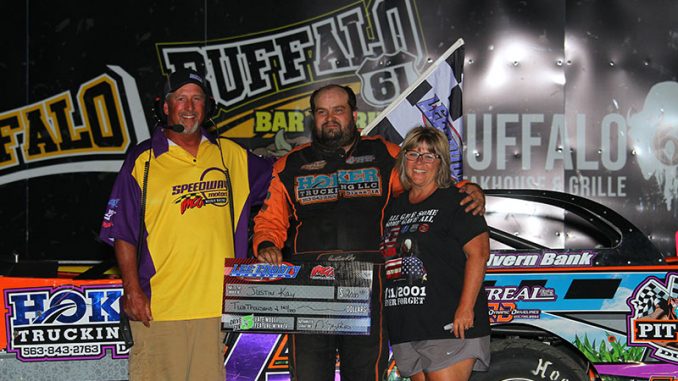 By Brian Neal
DONNELLSON, Iowa (Sept. 11) – The Iowa Corn Growers Association Drive For 5 finale for IMCA Sunoco Late Models took place Sept. 11 at Lee County Speedway. This is the second year for this mini-series to be held, with defending race winner Justin Kay claiming the checkered flag in the 50-lap feature.
Kay and Darin Duffy earned front row starts. Kay took advantage of his starting spot and jumped out into the early lead over Duffy and Matt Ryan.
While Kay paced the field out front, Duffy, Ryan and Tommy Elston, who started fifth, battled for the runner-up spot. Action was slowed on lap nine for back-to-back cautions.
The second restart saw Kay back out front with Elston overtaking Duffy for second. Two more quick cautions followed, with Kay staying in the lead and Duffy getting second back from Elston.
As the field battled for positions behind him, Kay started to pull away from the field before the halfway pit stop on lap 25. Drivers were given 10 minutes to change anything on their cars, except tires, to finish the second half of the race.
Once the 10 minute clock ran out, Kay took charge on the restart and started to pull away from the field, as Elston and Duffy continued to battle for second.
The only thing to slow Kay down was the final caution of the race on lap 46. On the restart, Kay rocketed back out front and then went on to lead the final laps to score his second Drive For 5 finale win in a row and $2,000.
Elston won the battle for second and Duffy was third. Andy Nezworski worked his way from 14th starting to fourth with Mark Burgtorf coming from 13th to finish fifth.
Thirteen IMCA Late Model drivers had earned a chance to race for $5,000 if they could win the 50-lap finale Kay would better those thirteen drivers to remain undefeated in the Drive For 5 finale feature.
Drive For 5 was presented by Ideal Ready Mix, Floyd's Waste Systems, J.J. Nichting Company Case IH, Triple Seven Trucking, Woodworth Attorney at Law, Triple R Performance Engines, KQ92 and Big Country 103.1.