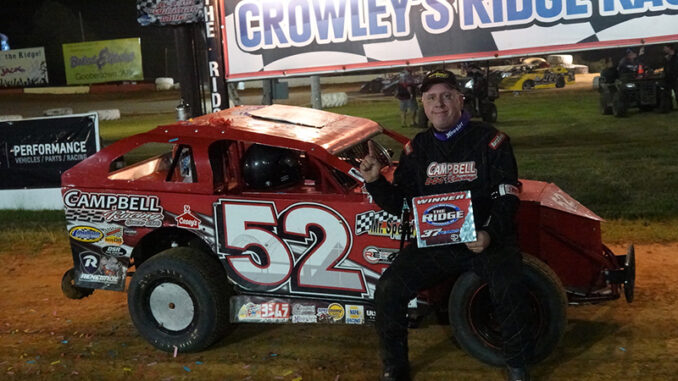 PARAGOULD, Ark. (June 17, 2023) – Bryce Vowan won the inaugural Mod Lites of Arkansas Racing For The Paws event at Crowley's Ridge Raceway.
Making their first ever visit to Crowley's Ridge, the MLA kicked off the night's festivities helping raise much-needed pet food, supplies and kitty litter for the Greene County Animal Farm. Racers and fans donated a truckload of supplies to the shelter, located near the Paragould track.
With 28 Stealth Racing IMCA STARS Mod Lites on hand from Arkansas, Missouri, Kentucky, Illinois and Tennessee, fans got to see the many of the top stars of the division attempt tackle Trent Francis' Crowley's Ridge Raceway.
The event started off with Bobby Garth winning the Rising Stars Challenge. In the feature, Vowan started fourth and quickly made his way to the point before surrendering the lead to Jeromy Wilson
While Vowan was getting back to the front, Mayfield, Ky.'s Cameron Stewart was slowly climbing his way from 12th starting, worked the bottom grove.
The stage was set for a green, white, checkered finish that saw Vowan and Stewart race side-by-side coming out of the turns while running their respective lines.
Coming out of turn four to the checkered flag, Stewart briefly had the advantage off the bottom before Vowan was able to chase him down and make the pass for the win at the checkered flag.
"I knew the car was very good on long runs and restarts left us vulnerable. I had seen Stewart working the bottom really good before cautions," he said. "I knew if I just keep hitting my marks, we should be good at the finish and it turned out in our favor. My stepdad and crew chief Mike Campbell really had this car rolling."
Rounding out the podium in third was Blake Wilson. Kyle Davidson was fourth and finishing fifth was 'B' main winner and hard charger Dylan Hollingshead, who passed 12 cars.
The event was hailed as a success by both Crowley's Ridge Raceway and the Greene County Animal Farm as a date for next year's event has been secured. The next Mod Lites of Arkansas travel event will take place July 15 at Riverside International Speedway in West Memphis.