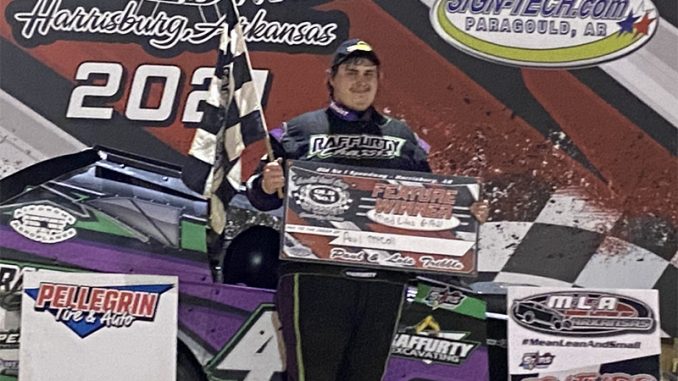 HARRISBURG, Ark. (June 19) – Dillon Raffurty of Kansas City, Mo., continued his winning streak in IMCA STARS Mod Lite competition as he topped the 34-car field at Old No. 1 Speedway in Harrisburg Saturday night.
Raffurty took the point from early leader Blake Wilson and never looked back in the 25-lap Mod Lites of Arkansas feature, which saw only one caution. He was rewarded with $500 for his efforts after winning the previous night at Marshalltown Speedway in Iowa.
Wilson went on to finish second, Bryce Vowan was third, while Gage Raines and Robert Caleb McCollett rounded out the top five.
Jeromy Wilson was the hard charger as he passed nine cars on his way to an 11th place finish after recovering from an early night flip in heat race action.
The Mod Lites of Arkansas will return to action on July 10 at I-30 Speedway for a regular night of racing.