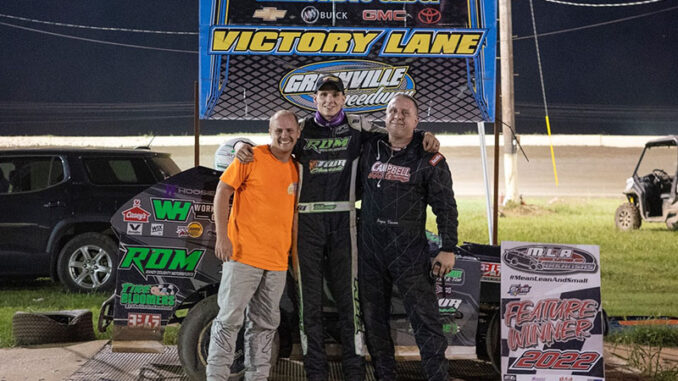 GREENVILLE, Miss. (Aug. 13, 2022) – Blake Wilson started on the pole and held off challenges from Bryce Vowan and Cameron Wagner in winning Saturday's main event, when the Mod Lites of Arkansas made their sole IMCA STARS stop this season in Mississippi. 
Wilson took the lead on the opening lap beside Kevin Simkins and begin navigating the trick and tacky gumbo surface that Greenville is known for. Vowan came under challenges from Wagner and Gage Raines while chasing Wilson.
As the leaders came upon lapped traffic and with both cars running different lines, Vowan made a pass for the lead, pulling up beside Wilson before a caution.
After the ensuing restart, Wilson had clear track to work with and despite having some close calls running the fast groove along the wall, went on to take his eighth win of the season.
"Greenville is a driver's track. It's tricky and challenging, being one of the fastest quarter mile tracks around. It just so happens the fastest way around is next to the wall. That groove will make or break you. There's no room for errors," said Wilson, also the winner when the IMCA STARS Mod Lites traveled to Mississippi last year. "But when you hit it perfect, there's no better feeling that ripping the lip wide open."
Vowan was the runner-up and Wagner was third. J.J. Borden came home in fourth and Dylan Hollingshead rounded out the top five. Dalton Hill was the hard charger, gaining five positions. Jayde Robertson was the Rising Stars Challenge winner.
Greenville Speedway track owners Carl and Charity Kilgore look forward to more IMCA events at the track in 2023.
The Mod Lites of Arkansas get back on track Aug. 26 with the Johnny Wise Memorial at Central Arkansas Motor Speedway and Aug. 27 at I-30 Speedway.