WEST MEMPHIS, Ark. (Sept. 17, 2022) – Fans at the track where Bryce Vowan grew up in the grandstands to watch him win the inaugural Mid-South Nationals for IMCA STARS Mod Lites Saturday night.
Vowan returned to Riverside International Speedway and completed a charge from the eighth starting position to the checkers, earning $2,000 along with a special edition Fender acoustic guitar trophy.
"Any time you can go back to where you started your career in racing, it's really special," he said. "I spent a lot of my childhood here at Riverside. I grew up wrenching for my stepdad Mike Campbell when he was racing sprints. Now he's my crew chief and to come back and to win where it all started for both of us is just something special."
Blake Wilson, Todd Minner, Troy Naeger and Kevin Simkins rounded out the top five. The 32-car field featured entries from as far away as California and a strong contingent of Tennessee drivers.
Early pole sitter Wilson jumped out to an early lead with John Pitts in second until near the halfway point of the 30-lapper when a lapped car collected both front runners to bring out the race's only caution.
Wilson was able to continue while Pitts' night came to an end. Vowan then attacked the track's top groove from the third spot, passing Naeger for second and Wilson for the lead, and carefully navigated through traffic to earn the win, his STARS Mod Lite third of the season.
"This was the fourth Mod Lite there but our first national-type event at Riverside," said Vowan, looking forward to a return visit to West Memphis. "Fans were talking about our race cars and we provided great action."
Feature results – 1. Bryce Vowan; 2. Blake Wilson; 3. Todd Minner; 4. Troy Naeger; 5. Kevin Simkins; 6. Brandon Freeburg; 7. Cameron Wagner; 8. J.J. Borden; 9. Kyle Davidson; 10. Jaedon McDowell; 11. Gage Raines; 12. Sam Coleman; 13. Randy Coleman; 14. David Heard; 15. Dylan Hollingshead; 16. Shane Hughes; 17. Chris Pinkston; 18. Bobby Hill; 19. Keith Fain; 20. John Pitts; 21. Steve Sweere; 22. Matthew Bauldwin; 23. Greg Hays.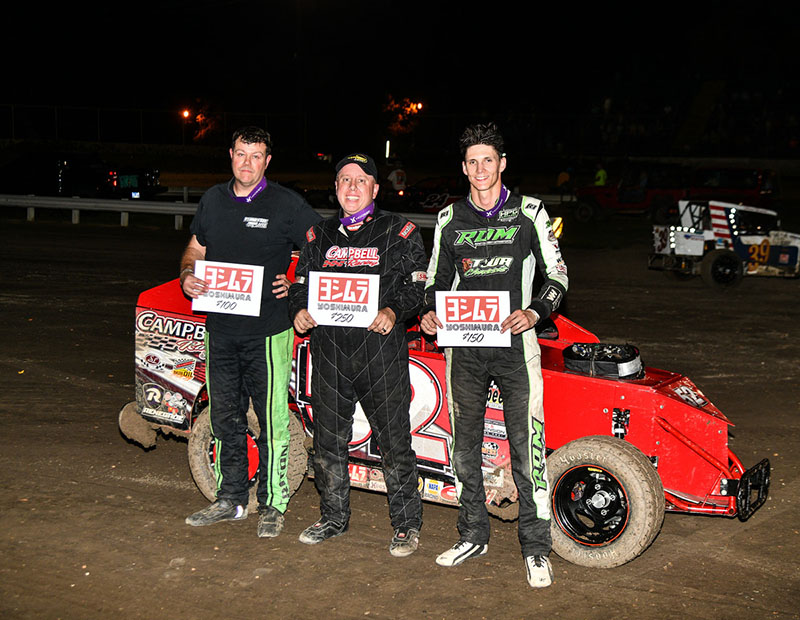 Recipients of Yoshimura bonuses, awarded at the Mid-South Nationals, were from left Todd Minner, third; winner Bryce Vowan; and runner-up Blake Wilson. (Photo by Scott Frazier Photography)