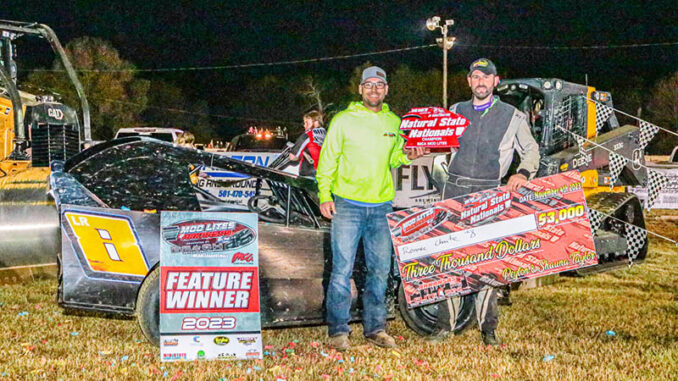 PLUMERVILLE, Ark. (Nov. 4, 2023) – Ronnie Choate added to his impressive 2023 Stealth Racing IMCA STARS Mod Lite resume by winning the Mod Lites of Arkansas Natural State Nationals held Nov. 4 at Central Arkansas Motor Speedway.
Choate, from Cookeville, Tenn., made his move to the front with five circuits left in the 30-lapper to win the inaugural special and $3,000.
"I was just being patient, waiting for some green flag laps," Choate said following his seventh win of 2023, a season that also saw him earn IMCA Speedway Motors Super Nationals fueled by Casey's, Tennessee Mod Lite Racing Association and Kentucky State titles. "Showing up to a new track you have never seen and being fast is a challenge. It makes winning special."
"I feel we accomplished that this weekend," he continued. "This year has been the best of my racing career and will be very hard to top."
Jaedon McDowell had paced the first from the start and ended in second.
"My strategy was to get the lead early and run up front from there on out," said the up-and-coming star, from Murfreesboro. Tenn. "If I had to do it all again, I would have stayed on the top groove. That's the only thing I would have done differently."
2023 Arkansas State champion Blake Wilson earned hard charger honors after starting in row six and finishing third.
Completing the top five were Josh May and Gage Raines.
Feature results – 1. Ronnie Choate; 2. Jaedon McDowell; 3. Blake Wilson; 4. Josh May; 5. Gage Raines; 6. Ben George; 7. Dr. Lynn Beach; 8. J.J. Borden; 9. Austin Gray; 10. Kevin Simkins; 11. Bobby Hill; 12. William Nobles; 13. Dalton Hill; 14. Jeromy Wilson; 15. Jace Reid; 16. Paul McCollett; 17. Cody Rogers; 18. Dylan Hill; 19. Justin Kinderknecht; 20. Layton Bennett; 21. Mike Kennedy; 22. Cameron Beene; 23. Steve Sweere; 24. Joe Dunlap.