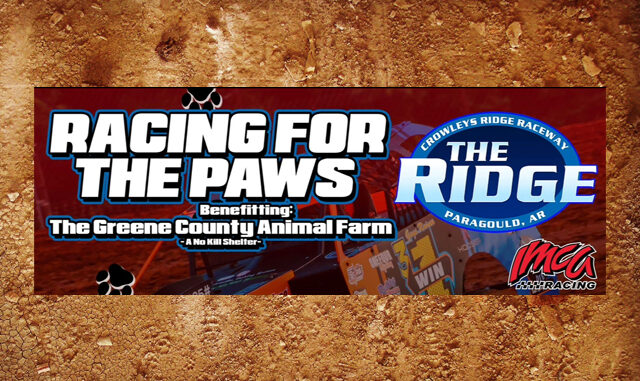 PARAGOULD, Ark. (June 14, 2023) – This Saturday night, June 17, the Mod Lites of Arkansas, a Stealth Racing IMCA STARS Mod Lite series, will be making its series debut at Crowley's Ridge Raceway for the first annual Racing For The Paws while raising needed pet food and supplies for the Greene County Animal Farm. 
Already home to the Friesen Performance IMCA Modifieds, this will mark the second time in the speed plant's 30-plus year history that another IMCA sanctioned division will participate at the historic race track operated by the Francis family for generations.
"We are really excited to welcome new racers and fans to our community. Our racing family loves to support local non-profit organizations and the Greene County Animal Farm holds a special place in many of our fans hearts. We can't wait to see the show the Mod Lites of Arkansas put on Saturday!" said Paige Francis-Hill with the raceway.
The Greene County Animal Farm is a non-profit, no-kill, animal shelter that is home to all walks of animals, big and small. They assist in care and also help find "furever" homes for its residents.
Because the shelter is at capacity, the urgent need for pet food is greater than ever.
"We use about 1,000 pounds of food per week. This fund raiser is a welcomed opportunity to interact with members of our community beyond our Facebook page and spread awareness of animal shelters and rescues' ongoing support needs. We feel blessed to be participating in this event with the Mod Lites of Arkansas and Crowley's Ridge Raceway," said  Greene County Animal Farm Director Brenda Ranthum.
This event marks the fourth travel race for the Mod Lites of Arkansas with drivers expected from surrounding states.
"Crowley's Ridge has been atop of the wish list for our series for some time and now we are excited to see it come to fruition. The size of the track, the amazing local fan base, the great side-by-side racing of Mod Lites make all the perfect ingredients for a fantastic event," said President and Promoter of the MLA Bryce Vowan. "Any time you can bring the racing community for a special event but more importantly, a great cause like raising needed pet food and awareness just makes it more special."
"While one of us gets to take the checkered flag, it's really about the dogs and cats. They are the real winners at the end of the night."