By Candice Martin
ANTIOCH, Calif. (June 3, 2023) – Troy Foulger was a double winner and Jason Ryan Jr. won for the second time this season Saturday during the Soares Memorial program at Antioch Speedway.
Foulger won both Friesen Memorial IMCA Modified and IMCA Sunoco Stock Car features while Ryan raced to the Friesen Performance IMCA Northern SportMod checkers.
Looking for a second straight win, national rookie point leader Andrew Pearce set the early pace, but a turn four pass on the second lap put Foulger into the lead. Foulger led Pearce through a pair of yellow flags in the first 12 laps as Buddy Kniss ran third.
Nick DeCarlo and Anthony Slaney dueled fiercely for fourth before Slaney moved ahead. Slaney got around Kniss for third on lap 15. Foulger had a good lead on Pearce and picked up the impressive win. Slaney ended up third ahead of DeCarlo and Randy Shafer.
Later, Foulger came back and won his third Stock Car main event.
Rob Gallaher led early with Foulger making an inside pass on Travis Dutra to take second on lap two. Foulger then went low in turn four on the third lap to grab the lead from Gallaher.
From there, he pulled away in the non-stop affair to a straightaway advantage and won ahead of Dutra, Scott Foster, Gallaher and Jason Robles.
Foulger was already eligible to qualify for Fast Shafts and B & B Racing Chassis all-star invitationals.
Ryan bolted into the immediate lead in the Northern SportMod main ahead of Jacob Mallet Jr. and Kelly Campanile.
Kenny Shrader slipped past Campanile for third on the sixth lap and set his sights on Ryan and Mallet. Following a yellow flag on lap eight, Ryan continued to lead Mallet and Shrader on the restart.
Ryan ran a smooth race for the remaining distance and collected the victory. Mallet settled for second ahead of Shrader, Campanile and Chuck Golden.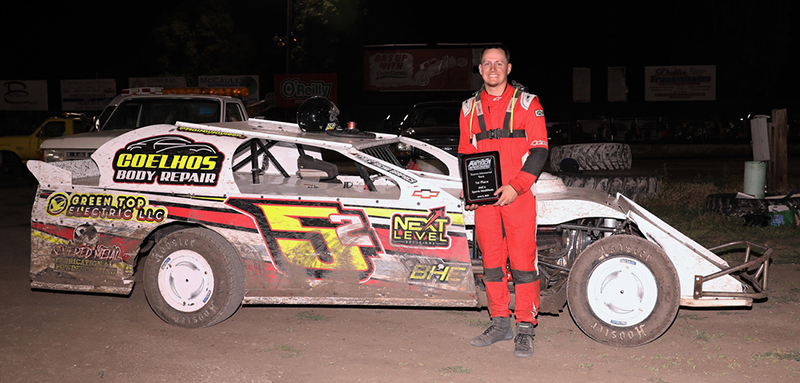 Jason Ryan Jr. picked up his second Friesen Performance IMCA Northern SportMod feature win of the season at Antioch Speedway on Saturday night. (Photo by Katrina Kniss)